Valley Health System Launches $50M Project to Elevate its Electronic Medical Record Platform
Valley Health System (VHS) leadership from throughout the system gathered today in the WMC Conference Center to celebrate the official launch of "Project Elevate," a 16-month undertaking to implement a customized and more robust version of Epic, the electronic medical record (EMR) it adopted in 2014.
Valley Health hospitals, outpatient clinics and providers have relied on Epic to document care, order tests and procedures, and communicate with patients, the health care team, and referring providers. VHS partnered with Inova Health System on its first Epic adoption in order to streamline the initial implementation process and curb expense. With Project Elevate, the system will transition to its own instance of Epic, which will be managed exclusively by Valley Health.
Earlier this year, the Valley Health Board of Trustees approved the implementation of Valley Health's own instance of Epic at a cost of approximately $50 million. This upgrade will allow Valley Health to more flexibility and independence, improve responsiveness and create a more robust platform including three new modules for areas not currently on Epic: laboratory, cardiology and Home Health.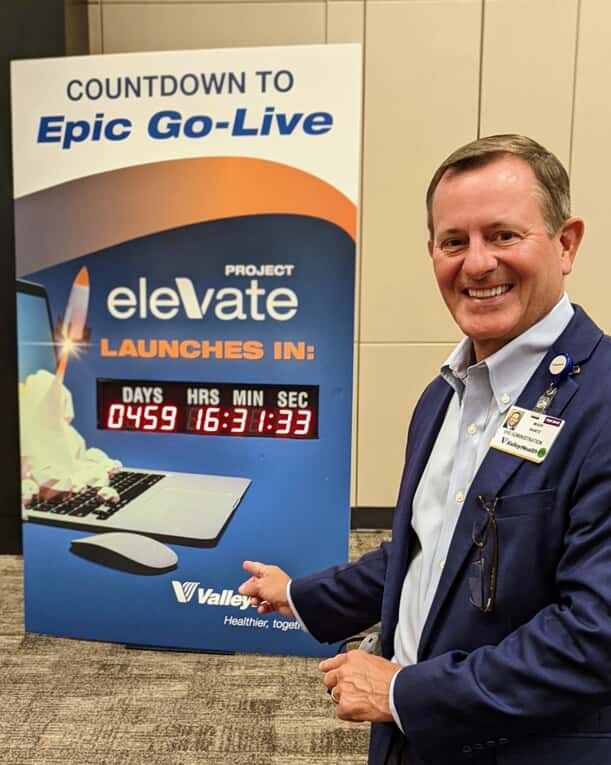 "We are excited about this pivotal organizational change, an opportunity to move to a new, higher standard of patient-centered care," says Mark Nantz, Valley Health President and CEO. "We have enjoyed a productive collaboration with Inova, but we have grown and our needs and circumstances have changed. Our physicians, staff and patients expect and deserve greater functionality and opportunities to engage with each other. I am confident that Project Elevate will do just that: it will elevate our patient care and experience, as well as the collaboration between our caregivers. And it will help Valley Health become a more nimble organization moving forward."
Other speakers shared brief comments at the Project Elevate kick-off. Anesthesiologist Katherine Johnson, MD, a member of the Valley Health Board of Trustees, said she was pleased to approve this significant investment. "The benefits this upgrade offers our patients and caregivers are immense. I'm so proud that Valley Health is able to make this continued commitment to provide the best care and the best patient experience," Johnson said.
Project Elevate will require about 18 months to implement, with go-live anticipated in the fourth quarter of 2023.