Valley Health Achieves Major Robotic Surgery Milestone
This summer, Valley Health performed its 5,000th robotic-assisted surgery using the da Vinci Xi robot.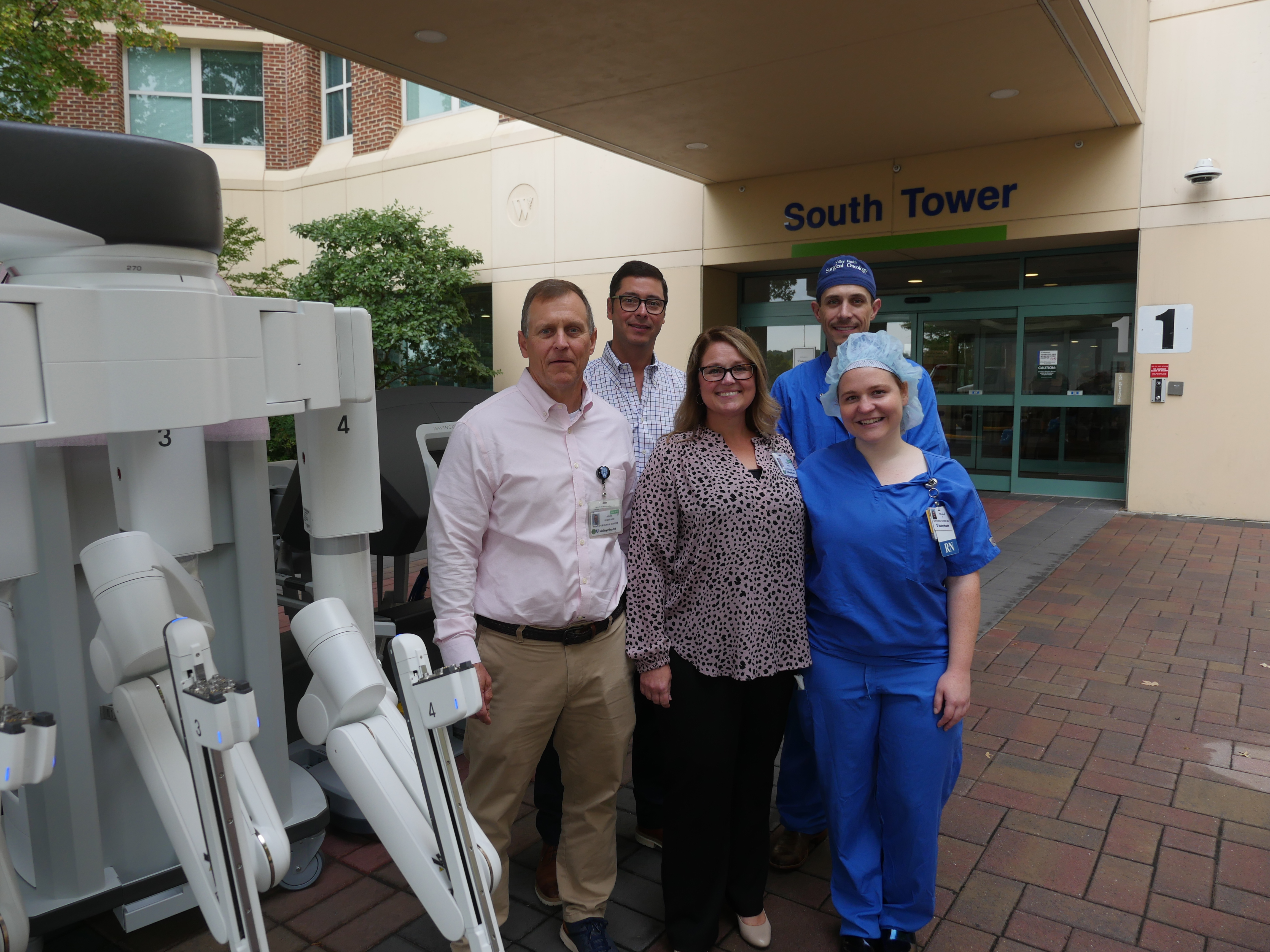 This milestone represents the hospital system's dedication to providing state-of-the-art care, locally.
"The advantage of having this capability is that surgeries like robotic cancer surgery or complex ventral hernia surgeries can be done in town," says Jorge Posadas, MD, a board-certified general surgeon with Valley Health Surgical Partners. "Otherwise people would be traveling to Northern Virginia, at least, for the same surgeries. Now they have the same care they get in larger places right here in Winchester."
The da Vinci Xi is a surgical system that extends the capabilities of a surgeon's eyes and hands and allows for a more seamless, less invasive, operation. During a procedure, a surgeon is seated at the da Vinci system console. The surgeon uses the robot's instruments, which move like a human hand but with a far greater range of motion. The da Vinci delivers high-definition 3D views that magnify the surgical area 10 times greater than what the human eye sees.
"We have more range of motion in a patient, compared to laparoscopic surgery, and we see a lot more detail," says Dr. Posadas. "We are now able to perform superior surgery, and as a plus it is ergonomically better for the surgeon."
Advantages of robotic surgery include smaller incisions, shorter recovery time, decreased pain, reduced risk of infection, fewer complications, less tissue damage and scarring, and improved outcomes. Surgeons can also access more hard-to-reach areas with more precise movements. The robot allows physicians to do more complex procedures, such as colon and hernia surgeries, which would have once been open procedures years ago.
Robotics at Valley Health: Then and Now
Valley Health's first robot arrived in 2016, and four surgeons at Winchester Medical Center (WMC) were trained to operate it. The first robotics case was a gynecologic oncology surgery.
"It was really great to be on the crest of the [robotics] wave as it was coming in," says fellowship-trained surgical oncologist Devin Flaherty, DO.
Currently, Valley Health has five robots, two of which arrived in early September. This makes Winchester Medical Center one of the very few hospitals in the state with five surgical robots. Approximately 20 WMC surgeons use the robots in specialties that include general surgery (gall bladder, hernia, etc.), surgical oncology, thoracic, bariatric, urogynecology, urology and acute care surgery.
Valley Health also offers 24/7 patient access to robotic surgery, which means surgeons are trained to do emergency robotic surgery at any hour, including in the middle of the night and weekends. This year, the health system is on target to do over 1,600 robotic cases.
"This milestone shows the work the surgeons, staff and administration have put into making this possible," says Nicole Rogers, Valley Health robotics coordinator. "It's impressive how quickly it happened as well. I think where it goes from here, it will be twice as fast to the next 5,000 cases."
Dr. Flaherty says that over the years, robotic-assisted surgery has transitioned from a cutting-edge alternative to laparoscopic or open surgery, to an everyday standard of care.
"Instead of laparoscopic being the default, it's robotics that is the default for many of the things we're doing now."
Robotic Firsts at Valley Health
Valley Health was the first hospital system in the region to use the da Vinci Xi surgical system. Since launching the robotic surgery program in 2016, there have been a number of robotic "firsts" for the hospital system and the larger region, including:
First single-site robotic cholecystectomy (gallbladder removal)
First use of the da Vinci for bariatric procedures (including Roux-En-Y Gastric Bypass and Sleeve Gastrectomy)
First robotic Trans Abdominal Release (TAR) Component separation hernia repair
First robotic sacrocolpopexy (pelvic organ prolapse) repair
First nephrectomy, prostatectomy and nephroureterectomy (urology procedures)
First dual-console procedure. Gives two surgeons access at the same time to four robotic arms, to collaborate on a surgical procedure
First robotic Whipple procedure, a complex procedure used to treat pancreatic cancer
What does the 5,000th robotics case milestone mean?
"Five thousand is a good number," says Dr. Flaherty, "but more importantly, we need to look at the growth rate of the program, which is just exponentially increasing. We may hit 10,000 cases within the next two years. Valley Health has really bought into the program and we'll continue to strive to offer patients the most advanced, top-level care."