Taking Flight: HMH Rehab Team Helps Resilient Stroke Survivor Start Over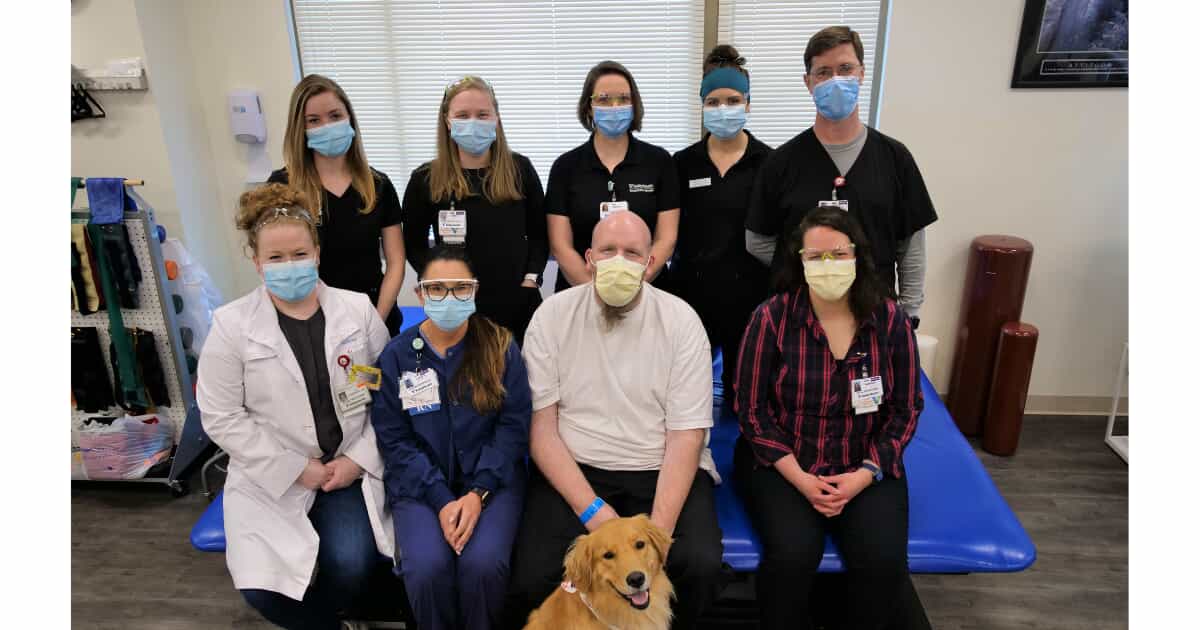 A video of Eric's story is featured below
Rehabilitation following a stroke is a collaborative effort. Recently, a remarkable team at Valley Health Hampshire Memorial Hospital in Romney, WV, said farewell to a determined man prepared to embark on a new life, thanks in part to their skill and compassion.
Eric Clemens was living in the Baltimore area, working as a mechanic, in March of 2019 when, at the young age of 38, he suffered a stroke. He completed inpatient rehabilitation, but had significant right side weakness and moderate expressive aphasia (difficulty speaking). That summer, Clemens and his fiancé relocated to Hampshire County and he began outpatient therapy at HMH, working with Steve Francis, PT.
After a COVID-19 pandemic pause in outpatient therapy services he resumed rehab, but then a sudden change in his relationship in December 2020 left him without any support at home. Living alone was not a viable option since he could not drive or walk independently. He called his PT for help.
After a brief stay at Winchester Medical Center, Clemens was admitted to HMH for additional rehabilitation while the team worked on a discharge plan that would ensure he could live independently. With physical, occupational and speech therapy, advocacy help from social work, and a community-based counselor, Clemens made significant progress in his speech, walking, and daily life skills like cooking, online bill paying and more.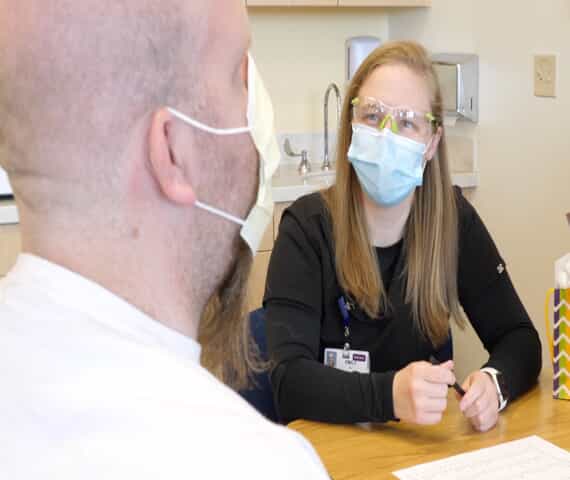 "It has been a remarkable journey," Francis said. "When Eric first came to us, he was completely wheel chair dependent and couldn't stand up or lie flat. After the first couple months of therapy, we were able to get him to stand, then take a few steps with a brace. He is now getting himself off of the floor, moving around in his wheelchair independently, and walking short distances. It's wonderful to see."
The team reached out to his sister in Texas, who invited him to come live with her family there.
"We figured if Eric could drive, he could pull off moving to Texas to be with his sister," Francis said. "We've had several discussions with his sister over FaceTime to help get her home ready for his arrival. Eric will continue rehabilitation services and working on driving while he's there."​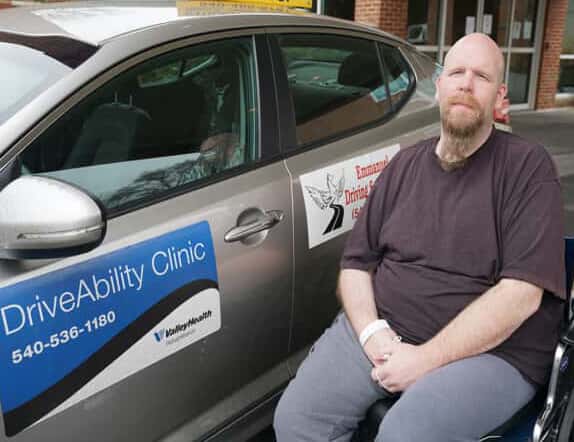 "There was a ton of collaboration while helping Eric. We collaborated with local organizations, EMS, and folks from across HMH. Our maintenance department did little things for him, like cutting two by fours so we could simulate his new home situation in Texas. War Memorial Hospital loaned us some equipment for us to better serve him. Eric has truly been a system patient. I can't stress enough how nice it is to see everyone come together across Valley Health."
"Eric's story has surpassed anything I have seen in my 30+-year career, and I've had wonderful opportunities," said Francis.
Nicole Olsen, a physical therapy student at Shenandoah University, worked closely with Steve and Eric during her 3-month clinical affiliation at HMH and described her experience with him as humbling and life-changing.
"It has been so fun diving into my education and creativity to try new things to help Eric. It's been eye-opening to see how he responds to things and how the human body is so good at healing. He used to tell me he wasn't sure if he would be able to do certain things again, then next thing you know he's doing it! Eric is going to go with me forever."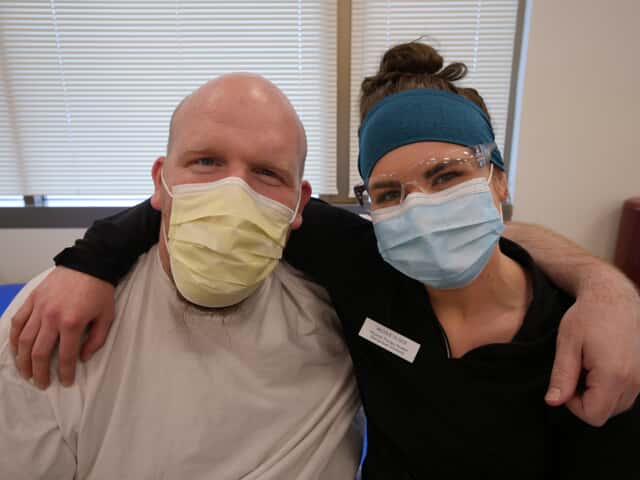 HMH Social Worker Amanda Harman, MSW, wanted to make sure Clemens had a successful and comfortable transition to Texas. She worked behind the scenes, reaching out to counterparts in Texas and assembling a resource guide so he and his sister can navigate any need that should arise. Hospital staff pitched in to purchase plane tickets for Clemens and Francis to travel together.
"It's scary when you're flying and there's nobody with you. We wanted to make sure we had somebody with him on his journey to Texas when he met up with his sister. It's been exciting to be able to help him out," said Francis.
The duo's Texas-bound flight departed Baltimore on Tuesday. Shortly after landing, they met Clemens' sister and brother-in-law before exchanging goodbyes.
"I cannot thank you enough for everything you all have done to help Eric regain his life back," reads a handwritten note from his sister, Jocelyn. "He has created amazing relationships, bonds and trust with each one of you. Thank you for believing in him so he could believe in himself."
Francis jumped on a return flight home within a few hours of landing in Texas and handing Clemens over. It was a quick turnaround and a shining example of compassionate care.
"It's been really evident how well we've all worked together to care for Eric," Harman said. "His story is why we come to work every day. Eric has been a great reminder of why we do what we do. We will absolutely miss Eric, but we're so excited to see him be successful and wish him all of the best."
Click the video to watch Eric's story