"Vacunate!" Partnership to Promote COVID-19 Vaccination Resonates in Local Latino Community
Posters in grocery stores, shops, restaurants, and laundromats feature the welcoming faces of Mady, Nohemy, and Victoria, and promote the availability, safety, and effectiveness of the COVID-19 vaccine.
Madelyn Rodriguez is a social worker. Nohemy Garcia is a medical interpreter and bilingual public school liaison. Victoria Zabala is a bookkeeper and small business owner. They have different backgrounds but share a dedication to community health outreach. And they are members of a vaccine equity team convened by Valley Health in late March 2021 to understand and eliminate barriers to COVID-19 vaccination, especially for non-English speakers and low-income individuals.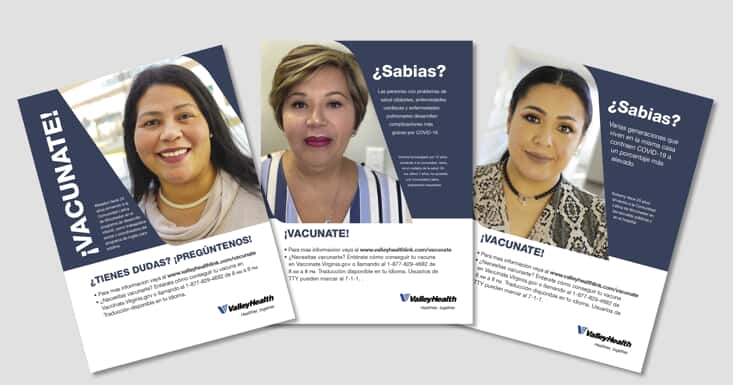 Community Embraces Vaccination
Between January and early May, more than 68,000 doses of vaccine were given at the mass vaccination clinic at Shenandoah University through the efforts of hundreds of volunteers and on-site and behind-the-scenes engagement of Valley Health and Shenandoah University staff. The clinic was popular and appointments were filled immediately, using an online process. For those with limited internet access or for whom English was a second language, the online appointments seemed to come and go too quickly. To address this issue, community nonprofits and church leaders tried to equalize the disparity by gathering names of people in need for blocks of appointments each day.
Elsewhere, thousands more were administered at Valley Health vaccination sites in Warren, Shenandoah, and Page counties, and by the Virginia Department of Health (VDH) at sites throughout the Lord Fairfax Health District.
Jeffrey Feit, MD, Valley Health Community, and Population Health Officer, has overseen the health system's COVID-19 testing and vaccination efforts. "Working closely with the VDH and other community partners, our region had done an amazing job getting shots in arms before pharmacies and physician practices had access to the vaccine," Feit said. "But we wanted to do more to reach the underserved." That's when he and Lord Fairfax Health District Medical Director Colin Greene, MD, MPH, formed a team to engage community insight and advocacy to help advance this public health effort.
Vaccine Equity Team Tackles Hesitancy
In March, several dozen community residents joined a Zoom meeting to discuss ways to bolster awareness and enthusiasm for vaccination, "to protect our families, friends, and neighbors from the serious health threat of the coronavirus," the invitation stated. "If we are to protect our entire community, we need to address any hesitancy or skepticism that might exist…[and] identify strategies for reaching all members of our community with information regarding the effectiveness and safety of the COVID-19 vaccine."
The resulting vaccine equity team saw an opportunity for more focused, culturally sensitive outreach to Latino residents, especially those who are essential workers in food service, housekeeping, and manufacturing. The team focused on sharing clear, trustworthy information, in Spanish, on posters in popular community locations, on social media, and in face-to-face and Facebook Live meetings.
Valley Health Moves Vaccination to Mall
When the large SU site closed in May, Valley Health transitioned to a smaller venue at Apple Blossom Mall. The new walk-in clinic is easy to reach and has consistent evening and weekend hours, no pre-registration or Internet navigation is required, and interpreters are available if needed.
The Valley Health clinic is currently open Wednesdays and Saturdays from noon to 7 p.m., staffed by a loyal corps of retiree volunteers and an operations lead, two alternating clinical leads, and medical interpreters paid by a FEMA grant through the Sinclair Medical Clinic. Since May 12, the clinic has administered 12,318 first, second, and booster vaccinations; 36% of the vaccinated have been Latino. The clinic's last day of operation will be December 11.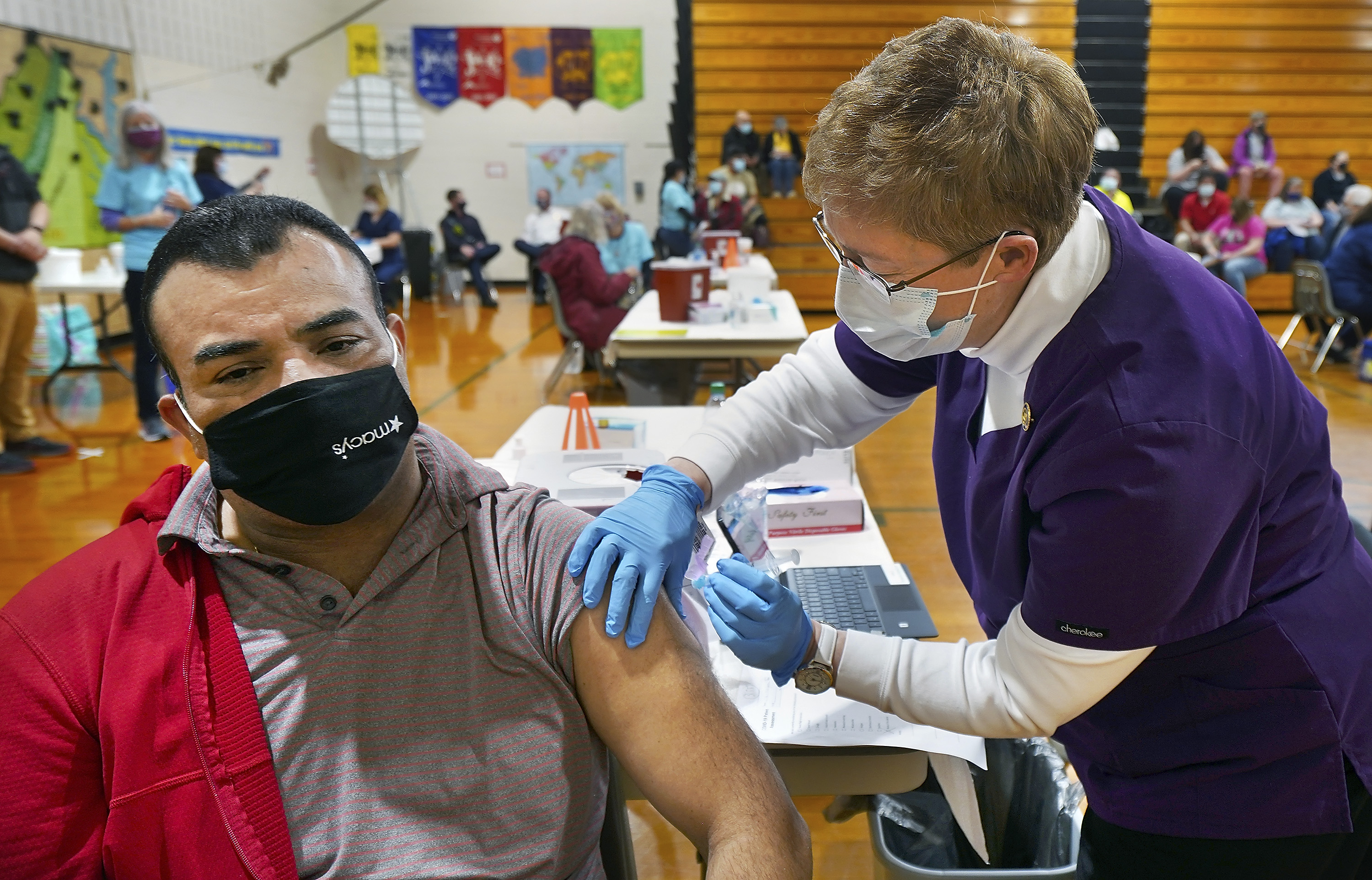 "There is such consistency here. Most of us have been working together for months, we know how to best help the hesitant, and make sure they feel comfortable," says Bibianna Vasquez, equity team member, who has been a passionate advocate since first volunteering at the Shenandoah University site in January. She has started conversations, reached out to students and families, gathered names of those unable to access the registration system, and used her strong connections with nonprofits to urge acceptance of the vaccine. In March, when Winchester Public Schools organized a vaccination clinic at Virginia Avenue-Charlotte DeHart Elementary School, Bibi, Mady, Nohemy and others helped Student Services Director Judy McKiernan spread the word and then greeted and offered language support that day.
Summer Progress
Over the summer, Valley Health provided vaccines to numerous clinics at public schools throughout the health district; of the 2,800 doses given in June and July, 17% went to Latinos. The United Way's annual "Project Connect" resource fair on June 25 was another opportunity for Valley Health to offer vaccinations to the community's most vulnerable residents.
"It's been amazing to be part of this," Bibi said. "I hear the human side when I register people or encourage them to come into the mall clinic." Some are there because a friend or family member had COVID and tell her "we didn't think it was real until it was real to us." Or they simply want to keep family safe and are eager to be able to gather together again, safely, in person.
"It's been a good collaboration. There are some really strong women in Winchester who get stuff done!" said Margarita Francisco Hernandez, a pharmacist, and member of the equity team. "Dr. Feit did a fabulous job listening to ideas." Margie moved from Loudoun County a few years ago and is especially grateful for the connections she's made through vaccination outreach.
The Power of Partnership
The efforts of the vaccine equity team have made a real difference. According to the Virginia Department of Health, the Lord Fairfax Health District (Winchester and Frederick, Clarke, Warren, Shenandoah, and Page counties) is 7.5% Latino. The vaccination rate among the district's Latinos climbed to 56% in September 2021 – a higher percentage than Caucasians, African Americans, or Asians.
Most importantly, during the Delta variant surge over the last several months, relatively few Latino patients have gotten sick enough to require admission to Valley Health hospitals.
"This has been such a rewarding community partnership," said Feit. "I've been so impressed with the amazing response of Latino community leaders who saw the need and made it their mission to knock on doors, put up posters, answer questions, post on Facebook, be a reassuring presence at the vaccination clinic, and ensure that no one is left out of this important health opportunity."
The work of the vaccine equity team continues, as the group strives for even higher vaccination compliance in the rural region.
For more information on vaccination, visit www.valleyhealthlink.com/vaccination or www.valleyhealthlink.com/vacunate