Mental Health First Aid: Pastor Buz Menhardt's Story
Pastor Buz Menhardt supports those with mental health problems in both his professional and personal worlds. He and his wife face the difficulties of supporting a family member who is diagnosed with bipolar disorder, and as an associate pastor, he regularly encounters and counsels members of his faith family who face mental health challenges, including teenage students at a local Adventist boarding school.
A leader in his faith community, he is frequently called on in crisis situations. "I enrolled in the Mental Health First Aid Training class because it became apparent to me that I needed to be better educated and prepared in my role as a 'first responder'." Menhardt says. "The training and the manual offered are excellent."
An 8-hour course provided over two days, Mental Health First Aid will be offered three times in 2020, and a partnership between Valley Health and Northwestern Community Services Board (NCSB) ensures the class is available at no charge to all participants. The class uses a standardized curriculum* and is taken by medical professionals, teachers, family members, first responders and anyone else interested in learning how to identify, understand and respond to signs of mental illnesses and substance abuse disorders. "I learned all manner of facts about depression, anxiety, bipolar disorder and addiction, but the anecdotal experiences shared by the presenters, Shannon Urum [prevention services coordinator at Northwestern Community Services Board] and Chief of Police [Chris] Rinker, were especially impactful," Menhardt adds.
Those who take the training learn about mental health resources available in the community, and are trained to use the "ALGEE" acronym as a guide when dealing with someone in crisis:
Assess for risk of suicide or harm
Listen nonjudgmentally
Give reassurance and information
Encourage appropriate professional help
Encourage self-help and other support strategies
"Before I took the Mental Health training, I would try to use reason, but I learned that reason doesn't work when a crisis situation is so emotional," continues Menhardt. "I now understand the value of listening in a nonjudgmental way. And the course made me more sympathetic and empathetic."
Pastor Menhardt also left the class with a newfound respect for those in his community who deal daily with those in crisis. "It was reassuring to learn about all the training our local police go through. I'm proud of our officers; it's like having therapists on call." And he continues, "I was not aware of all the support and resources available in the community, so it was great to learn about the network of support available through organizations like Valley Health and Northwestern Community Services … although there are more resources needed given how many struggle with mental illness."
Menhardt is now an advocate for Mental Health First Aid, encouraging his work colleagues to take the class. He recently contacted the superintendent who oversees other Adventist schools, advocating for mental health training for other educators and administrators. "This training is what our campuses—and students—need."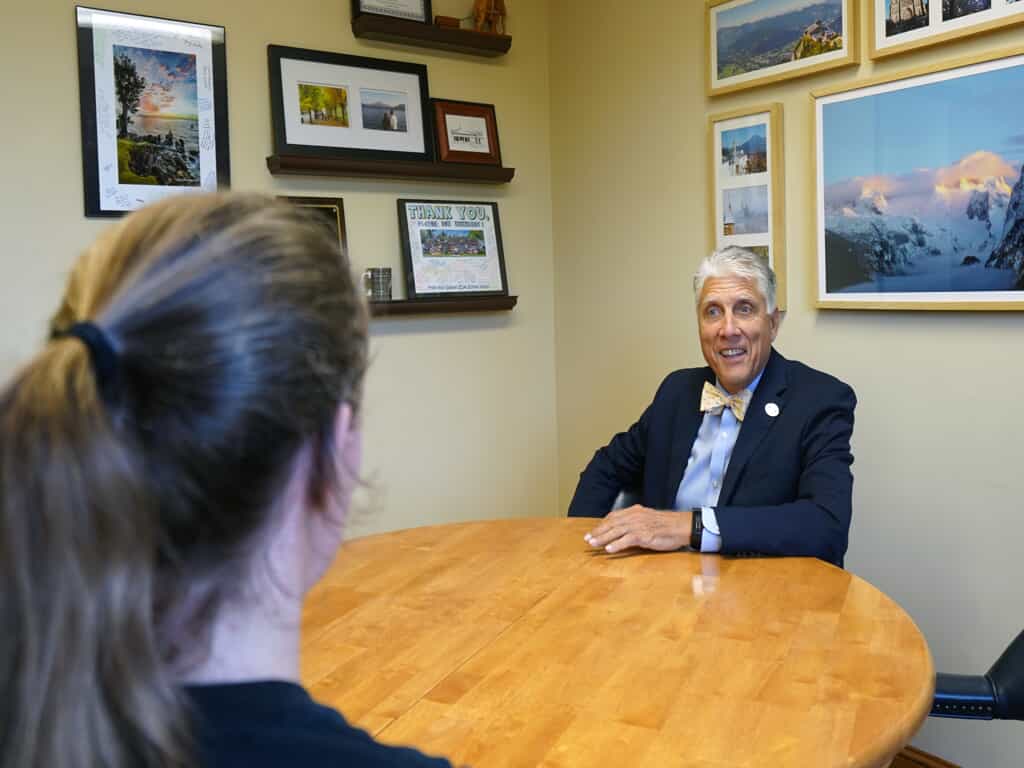 Melissa Stalbird, director of Education for Valley Health's Southern Region hospitals, works with Urum to coordinate and promote the semiannual sessions available in Woodstock, VA. [Note: The class will also be offered in Front Royal and Luray in 2020.] She is also tireless in her efforts to get nurses and other Valley Health staff to take Mental Health First Aid so they are better prepared to recognize symptoms and provide care for patients with mental illness. Documented outcomes for those who take the class include an "increased confidence in and likelihood to help an individual in distress," as well as "increased mental wellness themselves," so staff participation is a win for the patient and those who attend. (Source: www.mentalfirstaid.org)
"Melissa has been instrumental in establishing this initiative," enthuses Urum. "What is so wonderful about partnerships such as the ones we [NCSB] have with Valley Health and great local instructors like Chief Rinker, is that it gives us the opportunity to reach so many more community members than if we were trying to do this alone. I'm proud to be part of this community collaboration that is prioritizing mental wellness."
Since taking the class, Menhardt and his wife, who took the training with him, are more open about their personal situation, and this openness means others are more willing to share their troubles with them. "We're not experts, but we can share our experience. The journey for our family continues, and the training has opened doors; we want to be informed so we can help as many as possible."
Resources:
Suicide or other threats of violence must be taken seriously; go to a Valley Health Emergency Department immediately.
For Valley Health resources, visit valleyhealthlink.com/behavioralhealth or call 540-536-4881.
For Northwestern Community Services Board resources, visit nwcsb.org.
For National Alliance on Mental Illness, visit nami.org.
To register for Mental Health First Aid classes offered in 2020, call 540-459-1220. Class schedule:
*Mental Health First Aid USA is coordinated by the National Council for Community Behavioral Healthcare, the Maryland Department of Health and Mental Hygiene, and the Missouri Department of Mental Health —which train and certify instructors to deliver the Mental Health First Aid course in communities.