Grateful Transplant Recipient Offers Heart to Heart
When Charles Coby started going to the Valley Health Heart Failure Clinic in July 2020, he relied on a walker, and sometimes a wheelchair, to move around. He had no energy and no drive. His 58-year-old heart was failing him, despite medications, an implanted defibrillator and three stents placed in his heart to improve blood flow.
Clinic staff managed Coby's care and medications, including a continuous inotrope infusion to help his heart pump. They also coordinated care with the INOVA Fairfax Advanced Heart Failure Team for transplant evaluation. And they waited with him for a new heart to become available.
Seventeen months later, on December 15, 2021, Coby received a heart transplant at INOVA, a life-changing goal he credits the Valley Health Heart Failure team for helping him achieve.
"They treated me like family," he says. "They were always concerned for my well-being. They followed me through the entire process."
Receiving Care at Our Heart Failure Clinic
Heart failure is a chronic, progressive condition in which the heart muscle is unable to pump enough blood to meet the body's demands. Patients with heart failure may experience shortness of breath, coughing, wheezing, increased fatigue and accumulation of excess fluid (edema).
Valley Health's Heart Failure Clinic, located in the Heart & Vascular Center at Winchester Medical Center, assists patients in the management of heart failure. Over the past few years, the clinic has grown to accommodate an increase in patients.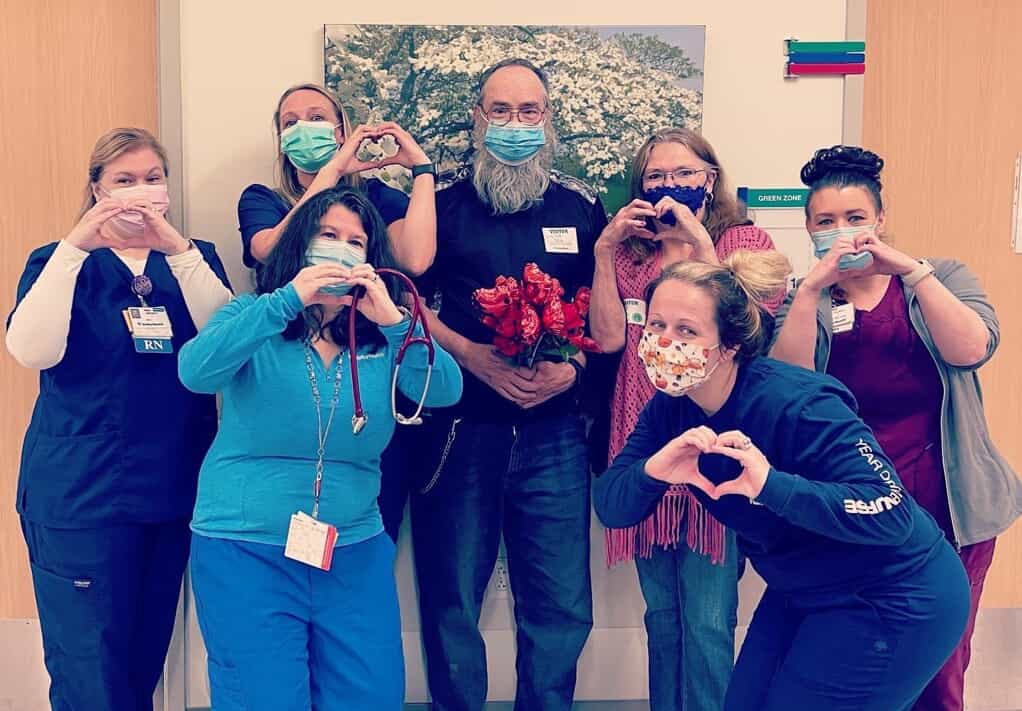 Heart failure is prevalent worldwide. More than 6 million adults in the U.S. have heart failure, according to the Centers for Disease Control and Prevention, and heart failure consumes more Medicare dollars than any other diagnosis. "Heart failure is a leading cause of costs in health care," says Heart Failure Navigator Amber Schiavone, RN, BSN.
The clinic team members coordinate with providers to optimize patient medications including diuretic therapy and goal-directed medical therapy. The team works with a patient's care partners, other specialists including Cardiology and Nephrology, and primary care physicians to provide the best patient care possible.
The goals of the clinic are to educate, improve quality of life, reduce readmissions to the hospital and reduce mortality.
"I think the clinic provides much needed care and a lot of value to Valley Health and the community as a whole," says Schiavone. "Our patients here are so special to us. We talk a lot about their goals of care and help them achieve those. We love our patients and they love us. It's the kind of medical care that makes your soul happy."
A Heart-to-Heart Ambassador
Since receiving his new heart, Coby, a 60-year-old West Virginia resident and veteran, says he can now ride a bike, mow his grass, work in his garden and take walks.
"I'm up and walking more than I was in the past two years," he says. "I feel 100 percent better."
Coby is grateful and eager to share his thoughts and experiences with other heart failure patients at Valley Health. He recently met with a woman who has begun her heart transplant journey. She expressed her fear and anxiety over the upcoming process. Coby sat and talked with her for two hours about his experience, and they scheduled a dinner date with their spouses to continue the conversation. After spending time with Coby, the patient said she feels more assured and confident in proceeding with her transplant.
"I looked at her and I said, 'It's your choice. But in my circumstances, I wanted to live more,'" Coby said. "It was the best Christmas gift I ever received in my life and I'd do it again."
Coby has agreed to speak with other patients on the heart transplant list in order to allay their fears. He said he would also like to assist the Heart Failure team in establishing a support group for advanced heart failure patients.
"He's able to convey his thoughts in easy-to-understand language," says Marie Amico, nurse practitioner and clinical coordinator. "It's not medical language. He's able to share his experience in a way people appreciate and understand."
For more information, please visit Valley Health Heart Failure Clinic.