Winchester Medical Center Starbucks Serves up Coffee and Cheer
We may find ourselves visiting the hospital for medical care, but did you know some folks head to Valley Health's Winchester Medical Center (WMC) for coffee and a healthy dose of good cheer?
Doctors, nurses, and other caregivers at WMC often felt stressed, overworked and exhausted during the worst days of the COVID-19 surge, but they could visit the on-campus Starbucks and get an immediate pick-me-up.
"So often I'd hear staff say 'it is great to find a little bit of normal here,'" shares Maggie Costello, retail manager, Nutrition Services. "They were so grateful they could come here for a break, coffee and a snack."
And even though the hospital-based operation was closed to the public for a number of months, the baristas continued to serve staff through a back entrance, ensuring employees could get a caffeine or sugar fix when they most needed a lift.
The WMC-based location, found on the ground floor of Medical Office Building 2 near Valley Pharmacy, was recently ranked #3 of 66 Aramark-licensed Starbucks in the region. This ranking is based on factors such as beverage taste, accuracy of orders and cleanliness of the store, along with customer experience, likely enhanced by the positive vibes coming from the colorful artwork and upbeat quotes and reviews that cover the windows and walls.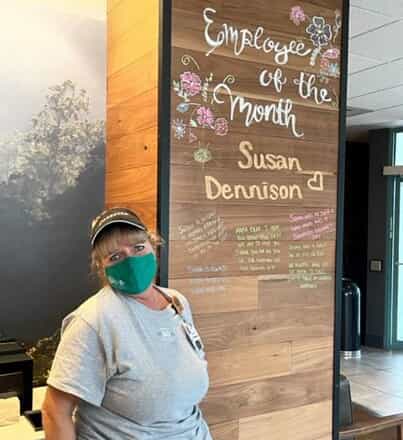 Supervisor Susan Dennison (pictured) is recognized as Starbucks Employee of the Month; the announcement is enhanced by Rossy Garcia's artistic talents.
Rossy Garcia, supervisor and "artist in residence," creates the drawings that are seemingly everywhere. "I take the reviews from the comment box, use song lyrics and other quotes to make the place feel positive," she says.
"I've never had a bad experience here," says WMC employee Tessa Mulledy, CNA/ED tech. "All of the staff smile, are helpful and patient, and I love how they've decorated. It's very welcoming!"
The Starbucks team prides itself on knowing what their regulars order, and having drinks ready when they see them coming. The store is also popular with local parents coming from the pediatric practice upstairs.
"We are the first stop for a cake pop after kids get a shot or COVID vaccine," says Costello.
"We are also popular with those coming from the lab next door after fasting blood work," she continues. "Some of those patients have never been to a Starbucks before, so we take time to talk them through the options if they're here for the first time."
The Starbucks' ten baristas say they enjoy the work because the team is like a big family. Whether it's one of their regulars or someone who's never had a Starbucks before, this group wants people to find a place for a chat with a friend or a moment to get away, reflect and take a break, especially with all the stress from COVID.
And by the way, you can get a pretty good cup of coffee there too!