VHS Transfer Center Coordinates Care, 24/7
Transfer Center nurse Jess Maas, RN, remembers the call that came through the switchboard in the fall of 2021. A 16-year-old girl had gone into cardiac arrest and was enroute to Winchester Medical Center's Emergency Department. For six to seven hours, Maas stayed on the line to facilitate care of the patient, working with several hospital teams and departments during that time, including the ICU, Heart and Vascular, the Operating Room, the Emergency Department, and Intensivists. She eventually arranged the teen's transport by Valley Medical Transport (VMT) to Inova Fairfax's pediatric ICU.
Several times, the patient coded, but she survived because of the dedication and teamwork between numerous departments and individuals at Valley Health, including Jess and the Transfer Center. "I think every single person involved in that case truly did their best," Jess says. "That is a call that I will never forget. It was a collaboration between every department in this hospital."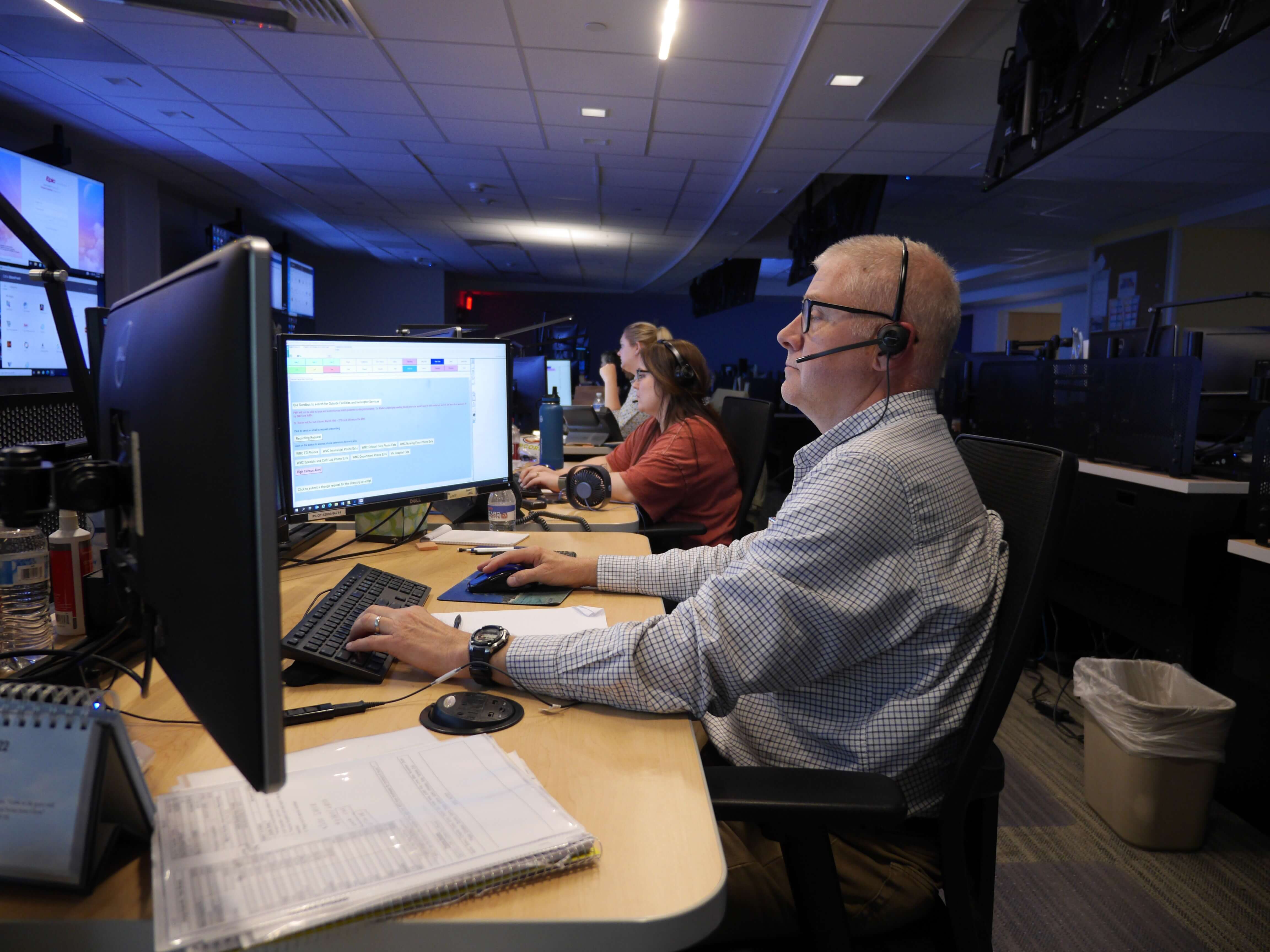 'A different perspective on health care'
The Valley Health Patient Logistics Center (PLC) is located on the main campus of Winchester Medical Center and is staffed 24/7 to support Valley Health patient flow/movement, phone consults, and transfers. The PLC is composed of Transfer Center nurses, Valley Medical Transport dispatchers, and communication operators—all in close proximity to ensure real-time communication and sharing of information.
Transfer nurses facilitate the movement of patients into or within WMC and the Valley Health hospital system, in addition to the transfer of patients out to higher levels of care, such as University of Virginia and Children's National Hospital in Washington, D.C. Transfer nurses serve as liaisons between providers and medical facilities; they have access to patient charts in Epic; and they can transfer patients based on regional bed capacity and availability.
They also take calls about blood supply and the location of needed supplies. "Our Transfer Center staff use their nursing experience and problem-solving skills to help caregivers throughout Valley Health assess and respond to all types of situations 24/7/365," said Jennifer Murray, MSN, RN, CEN, director of Critical Care, Emergency Services, and Transfer Center. "I'm proud of their ability to roll with the unique challenges each day brings. Patients are fortunate to have this awesome Valley Health team on their side."
Dave Bateman, RN, has been a nurse for the past 38 years, the last 25 at Valley Health. Dave and his fellow Transfer Center nurses are on about 120 to 150 calls a day during their 12-hour shifts. They seek to find the best resources for each patient, whether that's an 80-year-old who has fallen and needs orthopedic surgery, or a heart attack or stroke victim who needs immediate, definitive care. "It's like a puzzle, plugging people into the right places," Dave says of being a transfer nurse. "That's rewarding and a good feeling."
'The phone never stops'
Say a stroke patient presents to a regional hospital ED with serious symptoms. Once a transfer nurse receives that call, there is a detailed algorithm to follow: They might notify Valley Medical Transport, page a neurologist, connect the neurologist with an ED physician, review the patient's neuro assessment and CT scans, connect with the consulting neurologist, locate a bed and facility for the patient, and then facilitate transport with VMT.
They often have to prioritize patients based on their needs in order to get them into a bed as soon as possible. On average, there are 500 requests for transfers per month.
"The phone never stops," says Alexis Watkins, RN, who served as a nurse in Medical Telemetry for three years before becoming a transfer nurse. "We are the middlemen to make all plans work."
Debbie Garrett, RN, works nights as a Transfer Center nurse after years as an ER nurse. "We are a resource, especially to our smaller hospitals," she says. "We help so they can focus on the patient. To them it feels like they have a lifeline, and we do whatever we can to help them."
'We're a family here'
Alexis calls her 10 transfer nurse peers a family. "These are some of the best people I've ever met in my life," she says. "It doesn't feel like you're working at all." She credits Director of Critical Care Jenn Murray for being an "awesome" boss who promotes a great work-life balance and positive environment. "She's amazing," Alexis says. Dave says the job and the people "hooked him" immediately. "We're a family here," he says.