Nutrition Services Department Spotlight
The Nutrition Department is dedicated to serving Valley Health patients, visitors, and staff the most delicious and nutritious food possible. "We try to offer a balance of healthy and fun food in the cafeteria. In addition, to accommodate all of our patients' diets, we have 23 different menus," says Daniel Cornish, Corporate Director of Nutrition Services, a classically trained chef.
What's it like to work in a hospital cafeteria and the Nutrition Services Department?
It takes a dedicated team performing collaborative tasks to create a successful department that can feed a large hospital system. It's a fast-paced environment, and teamwork is essential, from prepping and measuring, cooking, plating, and delivery logistics at the back end, to exceptional customer service at the front end. "There are three divisions within the Nutrition Department, each essential to our success: production, retail and patient services," says Cornish.
"The nutrition department is a great entry point for anyone looking to start their career in healthcare. There are examples all over the hospital of CNAs, nurses, a doctor and corporate director who all began in Nutrition Services. Some stay here long term and make a career; others choose to move into a business or clinical role."
What are the educational requirements to work in Nutrition Services?
The hospital cafeteria is one of the few work areas at Valley Health where no prior experience is needed. There are no educational requirements to get your foot in the door and positions are available at all levels. "It's nice to have someone with culinary school experience, but it's not necessary. Anyone interested should apply. We aren't looking for what kind of skills a person has, but what's in their heart and if they have a passion for making good food. Skills can be taught; we are looking for people who enjoy cooking and caring for others," says chef manager, Ronald Annis.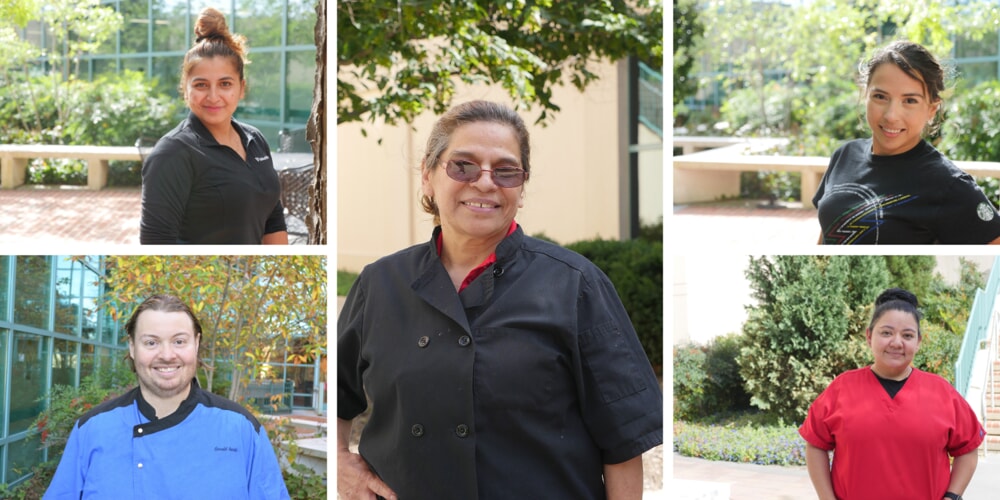 ​
Meet a few team members in the Nutrition Services Department at Winchester Medical Center
We talked with Lupe, Elsa, Ronald, Elga, and Rossy about their roles in the nutrition department and their personal experiences working at Valley Health.
Lupe cooks, Elsa prepares trays for patients, Ronald manages day-to-day operations, Elga delivers meals to patients across the center, and Rossy makes sure everyone at WMC stays caffeinated. Each plays a critical role in ensuring that things run smoothly in the Nutrition Department.
Learn more about the day-in-the-life of team members in various roles in the Nutrition Department and what they love most about working at Valley Health!
Lupe, Cook. Lupe has been with Valley Health for almost five years. She previously managed restaurant openings for 29 years throughout Northern Virginia. She joined Valley Health to reduce her commute and be closer to family.
Elsa, Prep Cook, Tray Line. Elsa has been working at Valley Health for four years. She focuses on putting together meal trays to be delivered to patients. She started working at WMC at Chick-fil-A and after two years decided to become a Valley Health employee and work on the tray line. The kitchen coordinate show food will be delivered across the entire medical center while ensuring meals stay hot. Elsa plays a critical role in ensuring that trays are put together properly before they leave the kitchen for delivery to patient rooms.
Ronald, Chef Manager. Ronald joined Valley Health in March 2020 from a retirement community nursing home where he served as lead chef. Before making a career out of his passion for cooking, Ronald worked in IT, retail, and construction and was a preacher, earning numerous associate degrees and certifications from Blue Ridge Community College. On a day-to-day basis as chef manager at WMC, Ronald works with a scheduler, dietitians, and assists with ordering hospital kitchen supplies and supplements, cooking for both patients and the cafeteria, as well as coordinating catering for special hospital events. Ronald also serves as the hospital-wide ServSafe instructor and proctor.
Elga, Hospitality Associate, Patient Services. Elga just reached her one-year anniversary and learned about working at Valley Health through Elsa. Elga is responsible for delivering food trays to patients throughout the hospital, from new mothers to cancer patients.
Rossy, Starbucks Store Manager at Winchester Medical Center. Rossy has been with Valley Health for nine years, building her career through hard work and dedication beginning in the cafeteria. After a few years, she was promoted to supervisor for the new Starbucks and, most recently, became the store manager.
What do you love most about your job?
Rossy: "I love leadership opportunities. I try very hard to not be a boss, but a leader. I want to be the person I wanted to have when I was an employee. I want people to feel they can identify with me and not be afraid to talk to me. They can come to me with anything and know that I want to help them grow and give them the tools they need to succeed. They aren't my employees; they are my family. That's what I love that I get to work with amazing people, and that I get to serve amazing people too. Ninety percent of our customers are Valley Health employees – and they are great."
Lupe: "I love to cook. It is my passion. I also love helping others. I love it when people ask me for help or have questions, and I can help them by providing an answer. I don't like to be bored, so I'm glad there is always something to do at this job and something I can always be helping with."
Ronald: "Honestly, it's the people I get to work with, and the people I get to help. From my first interview here, I got a genuine family and community feeling. When you say "hi" to someone in the hallway, they say "hi" back, whether it's a doctor, nurse, or an executive. People are nice here, and that is unlike other jobs I've had, it's special to Valley Health. It's a great feeling, to enjoy coming to work, because you're working with great people. We do our jobs, but we have fun doing it. We laugh, we tell stories to each other, and we make great food. My cooking specialty is "International Comfort Foods," it's not a specific place – it's a feeling. I love that I can create menus that are unique for people to enjoy."
Elsa: "Everything. I like what I'm doing, it's a great environment, and we have lots of fun. I get to prep the plates for the patients, and I enjoy the people that I work with. We have a lot of patients, and the days go by fast."
Elga: "I like everything here. I like transporting and I like service for customers. Every day is different and time flies by. I had great trainers that taught me my way around the hospital. Every floor is different. Some floors have 20 rooms; others have 30 or 40 rooms. It's like a maze. Every day I see new patients and take orders for breakfast, lunch, and dinner. The days are busy, and I'm never bored."
Do you want to join the Valley Health team? Apply today! Open positions include: prep cook, retail cooks, hospitality associates, clinical dietitians, nutrition service aides and team leads at various locations.
Are you a high school student looking for a part-time job? Come work with us in the cafeteria!
Search for your next job at: http://bit.ly/3PXmwbD