Winchester Medical Center Trauma Program Helps Officer Get Back on the Road
In law enforcement, you never know what may happen at a moment's notice. This was especially true for Sgt. Stephen Gregory of the Frederick County Sheriff's Department in December 2020.
The eight-year veteran of the police force was driving his cruiser in western Frederick County when everything changed in the blink of an eye.
"I was responding to a call and driving along Route 50 when the crash happened," explained Sgt. Gregory. "A car ran a stop sign at an intersection and hit me. That caused my vehicle to flip onto its side."
Sgt. Gregory's injuries included a broken ankle that required surgery as well as a concussion, which left him nauseous and dizzy for several days. He also sustained an eye injury from one of the deployed airbags. He was quickly taken to Winchester Medical Center.
In Emergency Medicine, a person with injuries from an accident, such as a motor vehicle accident, fall, or hiking, biking or ATV accident, is classified as a "trauma patient". Winchester Medical Center (WMC) routinely cares for patients with these types of injuries, but when they are combined with abnormally low blood pressure, respiratory failure and/or unconsciousness, a higher level of care is required and the WMC Level II trauma team is activated.
Thanks to the Trauma Leadership Team, which works closely with Emergency Department (ED) staff and first responders, a patient care plan was already in place before Sgt. Gregory was wheeled through the doors at WMC.
"As soon as I got to the emergency department, it was all hands on deck," said Sgt. Gregory. "Before I knew it, I was getting x-rays and scans without hesitation. During my stay at Winchester Medical Center, I constantly had nurses and doctors coming in and out of my room. They were all very helpful and made sure I was taken care of."
Sgt. Gregory was in the hospital for four days. He underwent an eye evaluation due to an injury. He also had surgery on his broken ankle. Throughout this time, Sgt. Gregory was monitored around the clock by WMC staff. He also enjoyed visits from his colleagues.
"Over the course of my stay, I had a shift mate or administrative staff member checking in on me each day. If I needed something, they would help me out."
After being released from the hospital on the fourth day, Sgt. Gregory began his outpatient physical and occupational therapy. This team worked with him on regaining the strength of his ankle so he would be ready to put on his uniform and patrol Frederick County as soon as possible.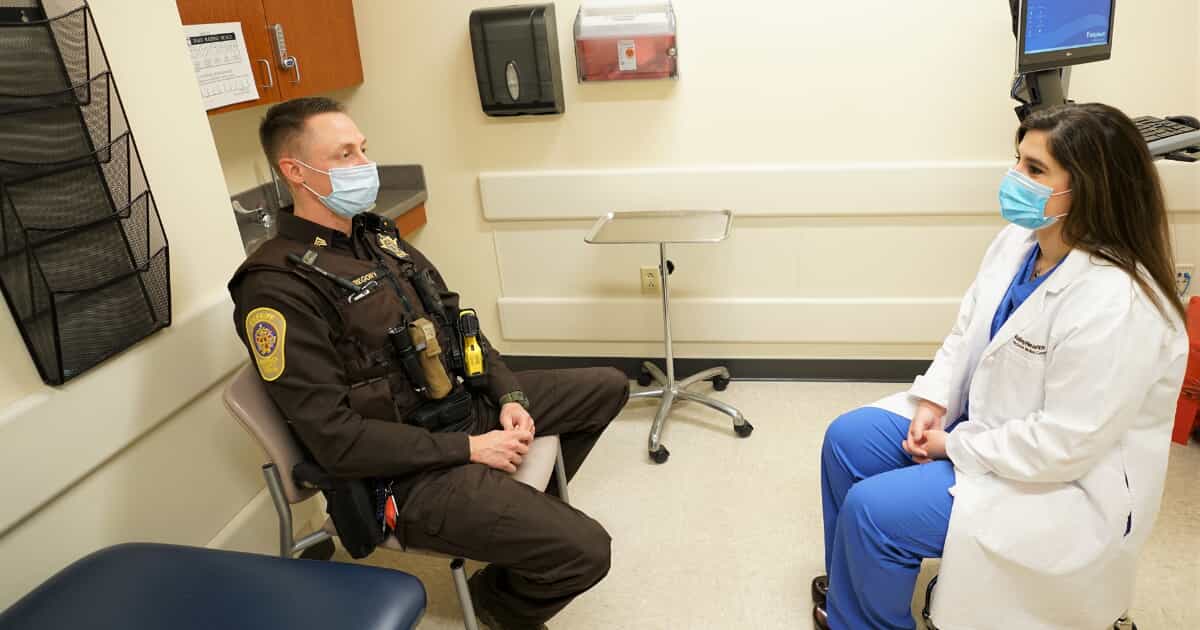 "I spent several weeks at home while going to physical therapy three days a week for about two months. Everyone I worked with through rehabilitation pushed me toward my best, while also not making me feel overwhelmed. That helped me make sure that I didn't slack off and get complacent," Sgt. Gregory said with a smile. "That process certainly helped me get back out on the road as quickly as I did."
After two months of therapy, Sgt. Gregory returned to full-time duty on March 17, 2021. He said he felt relieved to have such a quick recovery time with a team of Advanced Practice Clinicians supporting him throughout his journey.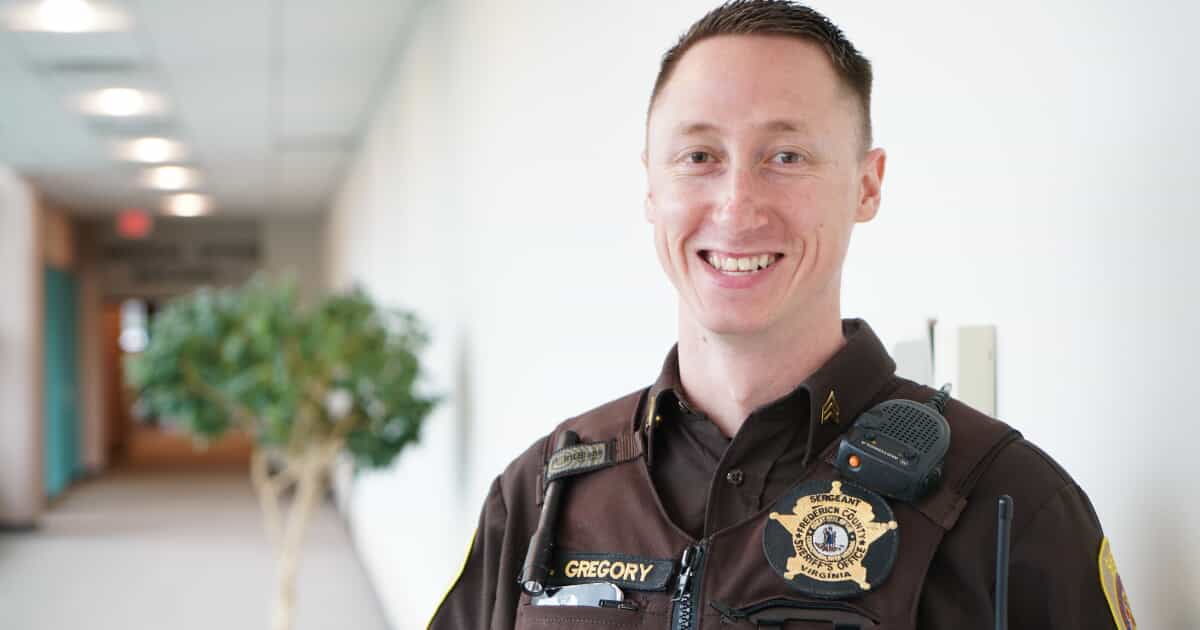 "From coming to Winchester Medical Center on the ambulance, to getting discharged, and continuing with physical therapy – everything was exceptional! Everyone was eager to answer my questions, lend a helping hand, and make sure I got back on track quickly."
Sgt. Gregory is one of hundreds of success stories from the Trauma Acute Care Surgery program. Providers on the Trauma team oversee care for patients like Sgt. Gregory during their entire inpatient stay. They collaborate with many specialists, such as orthopedists, neurologists or pulmonologists, who may be called in to treat and manage targeted injuries. This comprehensive, team-based approach ensures that every patient receives high-quality care from Valley Health's experts.
Having a team of Trauma Acute Care Surgery providers on hand also shortens the time before surgical treatment in time-critical cases. At WMC, a qualified surgeon is available 24 hours a day, so surgery is not delayed when there is an urgent medical need.
Since the Trauma Acute Care Surgery team coordinates care while patients are hospitalized, the result can be a shorter stay. The team will also schedule follow-up appointments upon discharge.
Learn more about Level II Trauma Care at Winchester Medical Center by visiting valleyhealthlink.com/winchester-medical-center/our-services/emergency-services/.