Food for Thought: Hands-on Education Growing at Winchester School
Hands-on learning, providing fresh food for students, and planning for the future are all goals of a unique initiative at a Winchester school. Thanks to a partnership with Valley Health, strawberries, watermelon, cantaloupe, peppers and more can be found growing at Daniel Morgan Intermediate School (DMIS)'s Discovery Garden.
DMIS Assistant Principal Morgan Occhuizzo came up with the idea when she was hired at the school two years ago.
"My background is in outdoor education. When I got here, I noticed there wasn't an outdoor learning program established. We have a huge campus with a pond on it, so I thought it would be great to get something started. I started to reach out to community partners, like Valley Health because I knew we couldn't fund it on our own."
The program started with four hydroponic units, allowing students to harvest tomatoes, lettuce, and beans. Students in special needs classes are also able to make salads to take home as part of their weekly life skills lessons.
"As that was underway, I started thinking about where we could take the program next," said Occhuizzo. "I asked for wood and dirt donations so we could build the beds for outdoor planting. This year, we were able to hire a STEAM (science, technology, engineering, and mathematics) teacher so we have a dedicated professional to run the outdoor program."
Now, fifth and sixth-grade students can get outside and get their hands dirty in the Discovery Garden. Not only does the program provide education and hands-on experience, but food for children who may not have access to fresh produce at home.
"Most of our kids have never planted and don't know what seeds look like," Occhuizzo explained. "They certainly don't eat greens at home, instead eating whatever canned items are on the shelf. It's been an amazing experience to do this for the kids and our community. Our goal is to get as much produce out to families as we can."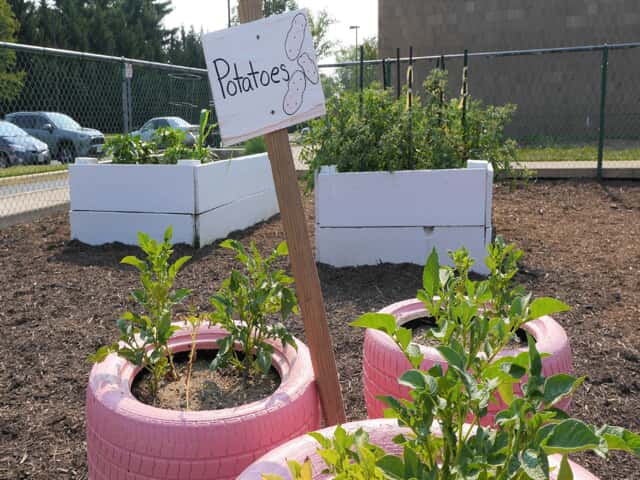 Tracy Mitchell, VHS Corporate Director, Community Health and Wellness Services, said it's important for organizations like Valley Health to work closely with local schools to improve health.
"A familiar place like a school is ideal for organizing and assembling partnerships that address local needs. What better place for a community garden? The DMIS garden serves as a learning site and we are proud to partner on an initiative that connects students to their environment and community."
Plans are already underway to continue growing the garden's capabilities and output. Through her staff's dedication and the community's generosity, Occhuizzo hopes the program will continue to create healthier habits for students and their families.
"We can shift the mindset of families by shifting the mindset of the kids," Occhuizzo added.
Valley Health supports the DMIS Discovery Garden, and numerous other regional initiatives, through Community Health Impact Grants. These grants, along with other collaborative efforts, aim to positively impact the health, welfare, and quality of life of our communities.