Valley Health: 2020 Year in Review
2020 was a year unlike any other. It tested us in new ways, and working side by side, we have grown stronger, more resilient, and more grateful for our blessings.
Join us as we look back on the past 12 months
Community Impact Grants Announced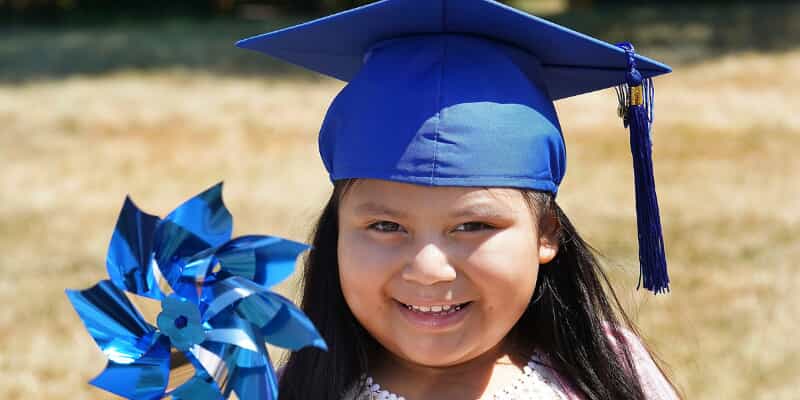 Valley Health was pleased to award three-year (2020-2022) grant funds to community organizations, totaling over $3.2 million dollars. These Community Impact Grants will directly benefit the communities in the northern Shenandoah Valley and surrounding region. Learn more at www.valleyhealthlink.com/impactgrants.
Warren Memorial Hospital Team Receives "Going Clear" Recognition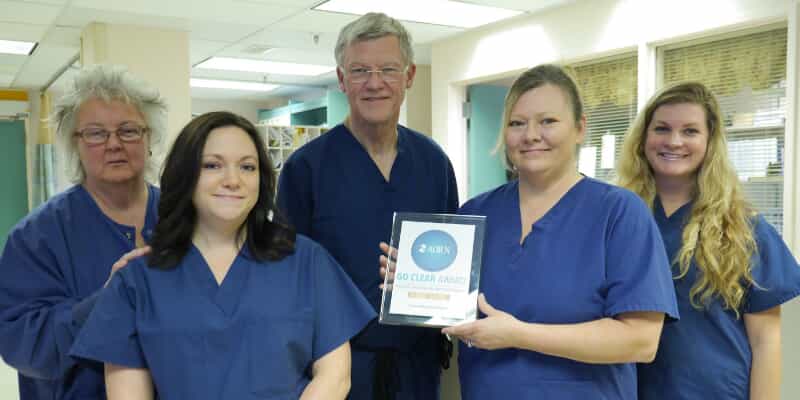 Thanks to the efforts of Warren Memorial Hospital's Surgical Services, the hospital earned a gold Go Clear Award from the Association of periOperative Registered Nurses (AORN) for the team's efforts to reduce surgical smoke. WMH became just the third surgical facility in the Commonwealth and 54th organization in the country to earn this distinction. Click here to learn more.
Valley Health Hospitals & Home Health Agencies Rated Highly for Quality by CMS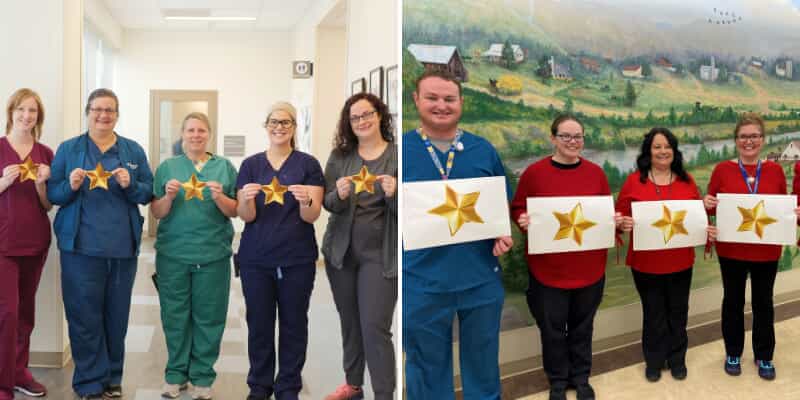 In late February, Valley Health six hospitals and two home health agencies earned high marks in a quality assessment of more than 4,500 hospitals nationwide by the Centers for Medicare & Medicaid Services (CMS), with two of its hospitals, Page Memorial and War memorial earning the highest possible rating of five stars. Read more on this page.
Valley Health Long Term Care Staff Are "Certifiably Good"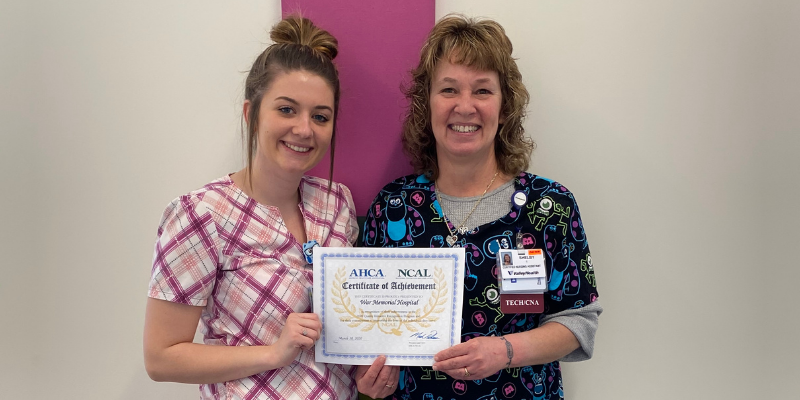 The American Healthcare Association and National Center for Assisted Living Quality Initiative Recognition Program announced in February that Valley Health's three long-term care facilities demonstrate the highest level of quality in one or more of the NCAL Quality Initiative goals: hospitalizations, customer satisfaction, antipsychotics, and functional outcomes.
Valley Health Heart & Vascular Center Expansion Opens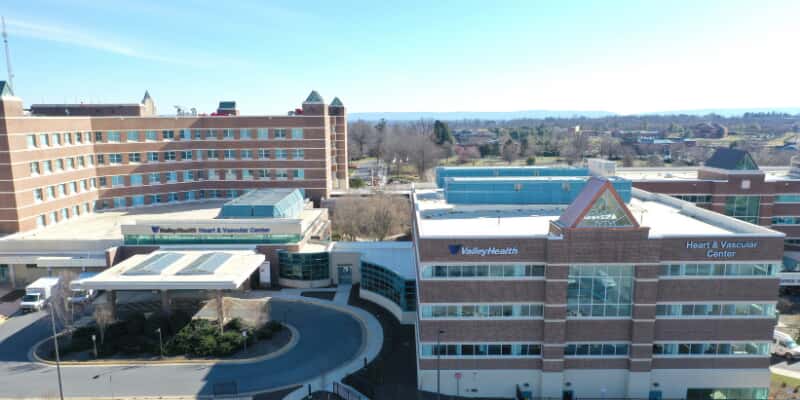 On February 26, Valley Health Winchester Medical Center dedicated a new four-story addition to the Heart & Vascular Center to serve residents seeking cardiovascular care. The new facility is home to Winchester Cardiology and Vascular Medicine | Valley Health (opened March 2), Valley Health Cardiothoracic Surgeons/Advanced Valve Center (March 9), and Valley Health Vascular Surgeons (March 9), as well as WMC Cardiac and Pulmonary Rehabilitation and the EECP (Enhanced External Counter-Pulsation) clinic (March 16). An outpatient lab opened March 2 on the mall level. The opening of the building represents the next step in the evolution of advanced heart and vascular care delivery and coordination for our growing region. It also reflects Valley Health's ongoing commitment to delivering the highest quality multidisciplinary cardiovascular care.
Valley Health Cares for First COVID-19 Patients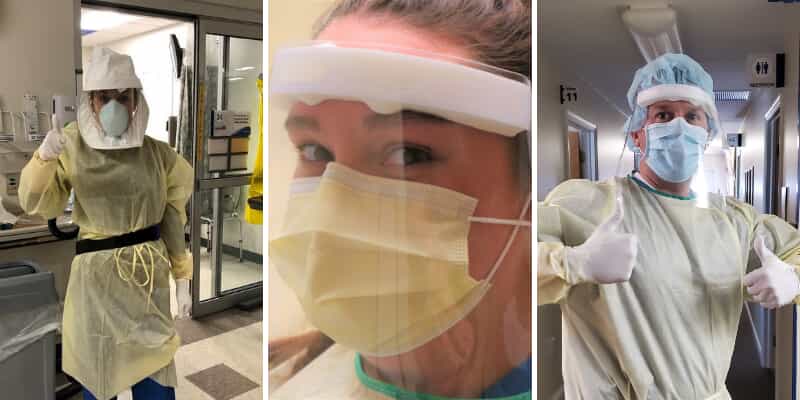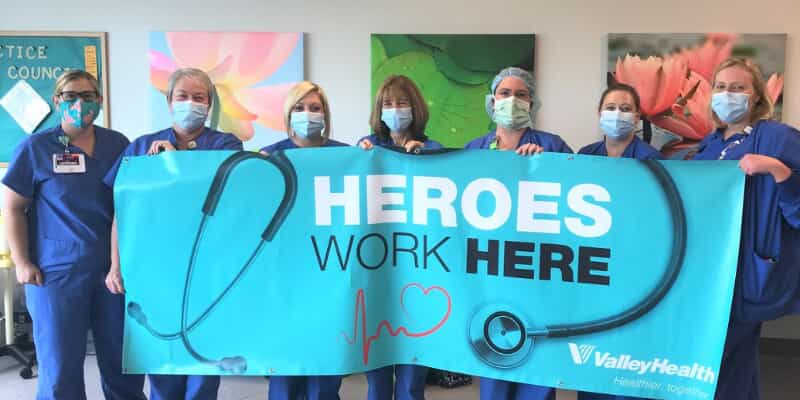 As the region's healthcare leader, Valley Health closely monitored the spread of COVID-19, and responded quickly when it reached our community. Employees began receiving daily updates, adjusted to new protocols and restrictions and worked collaboratively to provide safe and effective care to all patients. For COVID-19 related updates, visit this page.
Sew Helpful Mask Challenge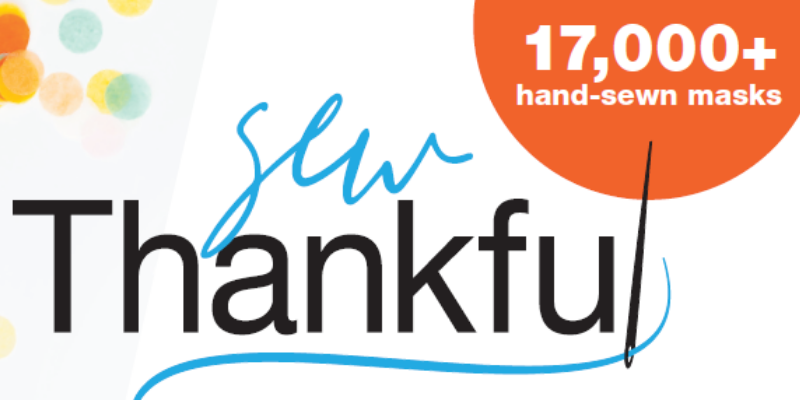 In just two weeks' time, our community made and donated over 17,000 hand-sewn masks as part of our Sew Helpful Community Challenge. Ultimately, the community went on to sew more than 25,000 masks. These masks helped preserve and extend the supply of personal protective equipment at that time. Our heartfelt thanks to all who made and donated the hand-sewn masks, enabling our employees to remain safe while at work caring for our community.
Valley Health | Spring Mills Opens for Patient Care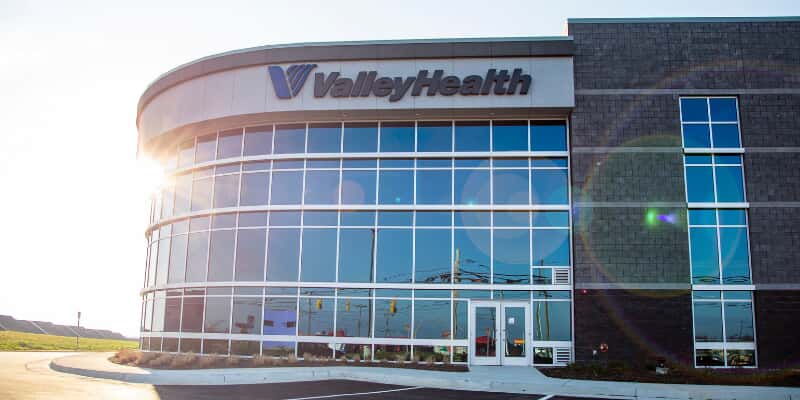 After years of planning and many months of hard work, Valley Health | Spring Mills opened, giving the Eastern Panhandle community access to the care they need, closer to home. A primary and specialty care destination, this new outpatient medical campus, located in Spring Mills, WV, provides a wide range of primary and specialty care, including:
Panhandle Cardiology and Vascular Medicine
Valley Health Multispecialty Clinic | Spring Mills
Valley Health Urgent Care | Spring Mills
Valley Health Medical Imaging
Valley Health Laboratory
Employer Health services
Valley Health Family Medicine | Spring Mills
Learn more at www.valleyhealthlink.com/springmills.
Respiratory Care Phone Line Opened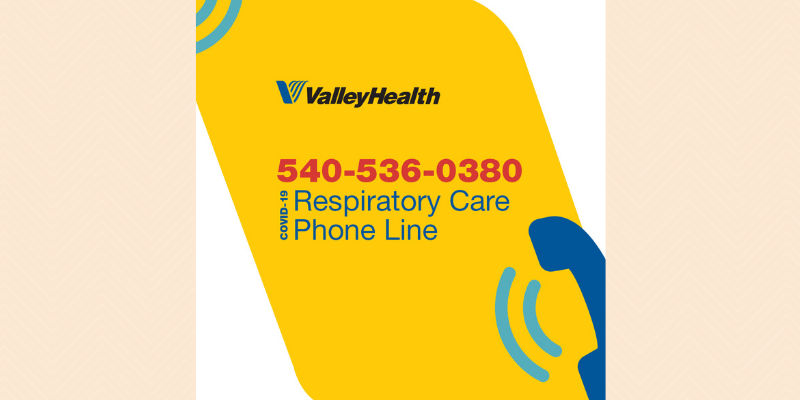 Our Respiratory Care Phone Line was established in April. This resource, manned by Valley Health staff, has connected those who have symptoms of COVID-19 to appropriate avenues for testing and care.
Healthcare Heroes Celebrated with Signs and Gifts from the Community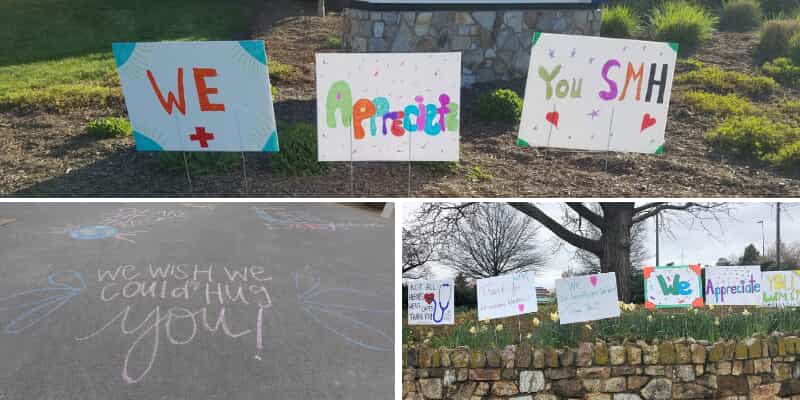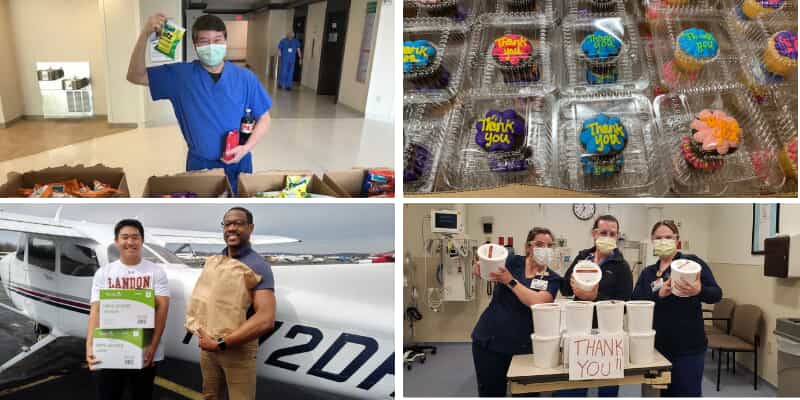 Community support for our caregivers has been overwhelming. From donated cookies and cupcakes to cases of toilet paper (and more!), you cared for us while we cared for you. We extend a heartfelt thank you to the individuals, businesses and community organizations who have shared their time, talents and gifts to show their appreciation of our caregivers. Learn more about the community support we received on this page.
WMC Again Earns 3 Stars for Commitment to Vascular Quality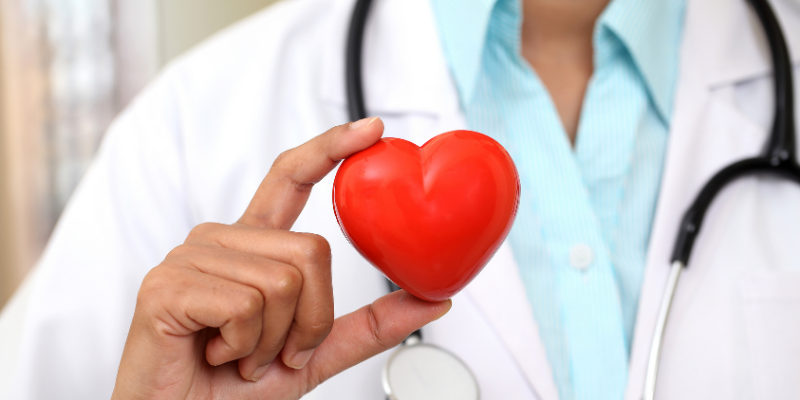 For the third consecutive year, Winchester Medical Center has received three stars (the highest score possible) from the Society for Vascular Surgery's Vascular Quality Initiative (SVS VQI) for its active participation in the Registry Participation Program.
Noah's Piggy Bank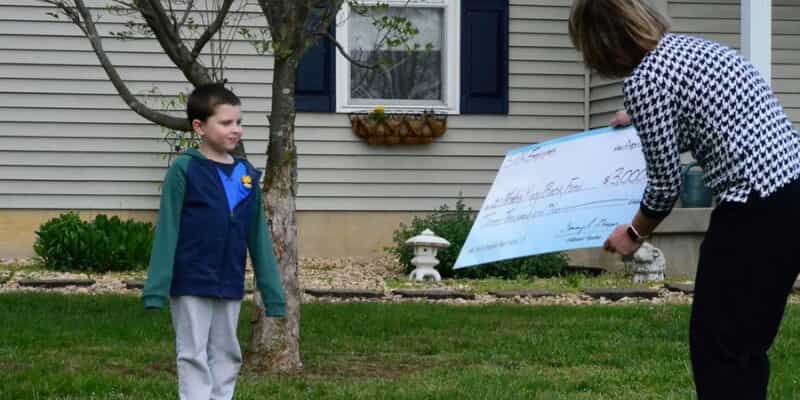 At the onset of the COVID-19 pandemic, Noah Ryman, an eight-year old from Woodstock, emptied out the contents of his piggy bank, counted up his life savings, and sent the sum of $7.87 along with a hand-drawn note to the leadership at Shenandoah Memorial Hospital asking that the funds be used "for the sick people that need it." Touched by the young boy's generosity, first responders from the city and county and more than two dozen hospital staff members came together for a parade of thanks past Noah and his family's home. Noah's gift snowballed into a hospital matching campaign – Noah's "piggy bank" – which continues to grow well past the $3,000 initially raised.
You can donate to this fund at www.valleyhealthlink.com/donate. All proceeds benefit the SMH Foundation's indigent care fund, which is used to offset the cost of prescriptions and medical supplies for patients in need of financial assistance.
Valley Health Announced Paycheck Protection Plan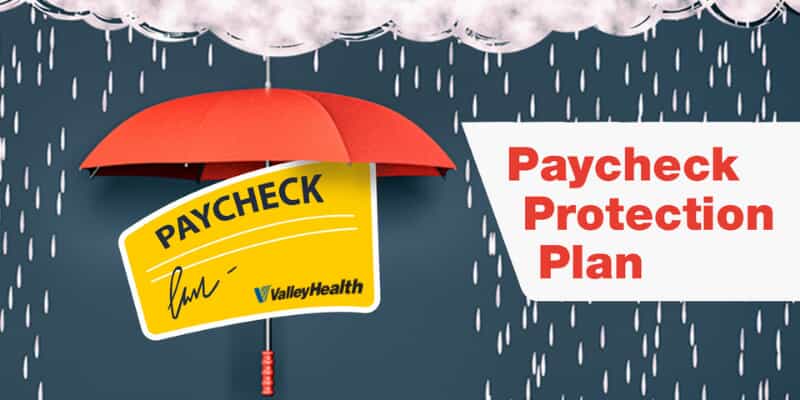 At a time when many businesses laid off employees or closed their doors, and hundreds of health systems nationally furloughed large portions of their workforce, Valley Health committed to stand by employees and community as the region's largest employer. The Valley Health Board of Trustees authorized up to an additional $50 million to supplement employee pay. This Paycheck Protection Plan committed the necessary resources from reserve funds to retain and pay our more than 6,000 caregivers. And since our staff spend their pay in our community, this was a win for our team AND many local businesses during a difficult time.
Valley Health Lab Team Manages More Than 5,000 COVID-19 Tests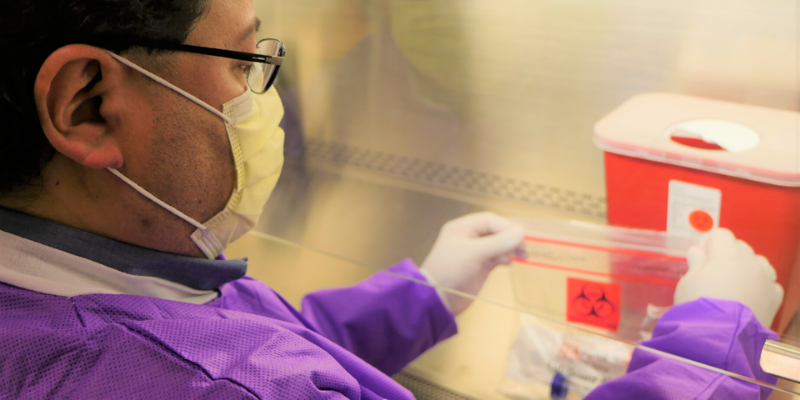 New equipment, training, protocols, and more. Valley Health labs quickly pivoted to ensure safe, accurate and timely COVID testing when the new virus arrived in our community. This milestone was a testament to the work of our nurses, medical transport teams, laboratory specialists and the leaders who support them. Read the full story here.
Mark Merrill Retires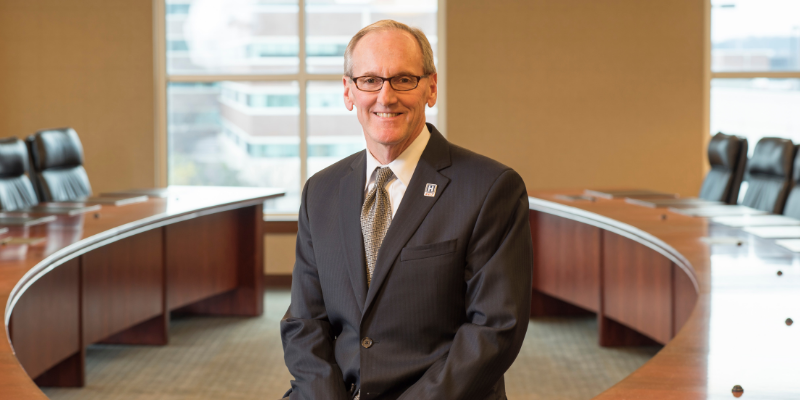 When Mark H. Merrill announced his retirement in 2019, we didn't envision saying "see you soon" during a global pandemic. Merrill, our leader of 11 years, leaves behind a legacy of community partnerships, expanded services, modernized facilities and an organization that is grateful for his service. Although face-to-face celebrations of his many contributions were canceled, he was still feted by the team during several virtual events.
Mark Nantz Welcomed as President and CEO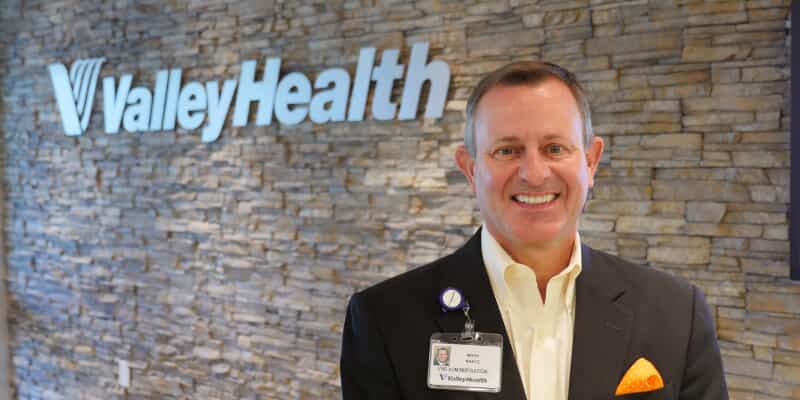 A new chapter began on June 1 as we welcomed new President and CEO Mark Nantz. An accomplished healthcare executive, Nantz brings 30-plus years of experience to his new role leading our health system. Nantz began work in true COVID-19 style: appropriately distanced, wearing a facemask and elbow bumping new colleagues.
Campus Construction Progresses at the New Warren Memorial Hospital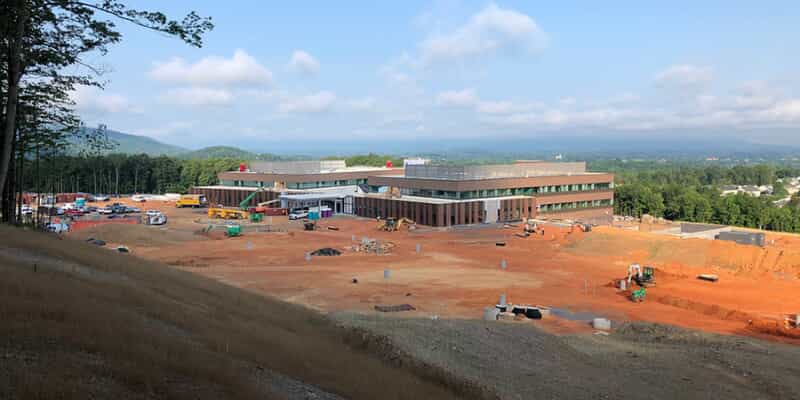 Construction is underway at the site of the new Valley Health Warren Memorial Hospital, slated to open in mid-2021. See more updates and construction progress photos on this page.
Winchester Medical Center Nurses Recognized by The Washington Post & American Nurses Association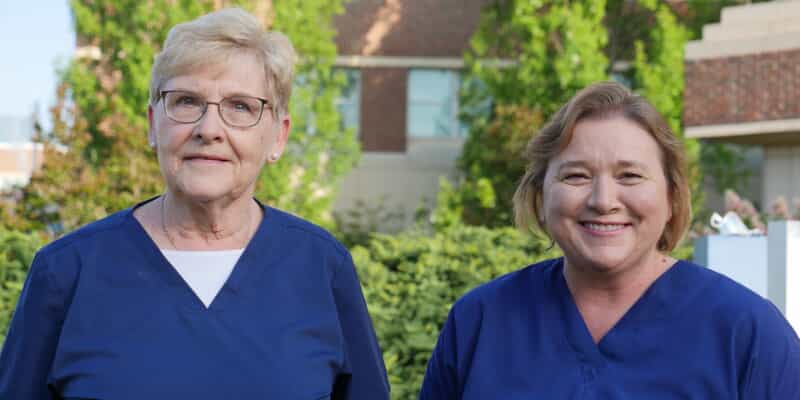 Lisa Dellinger, RN-IV, BSN, Critical Care, and Barbara McWhinney, RN, MSN, CWON, Wound, Ostomy and Continence Services, were recognized as 2020 Star Nurses by The Washington Post in partnership with the American Nurses Association. Lisa and Barbara have long been "star nurses" at Winchester Medical Center (WMC), dedicating their careers– a combined total of 84 years!– to their patients. Click here to read the full story.
Project Search Graduates Cohort #3 – Welcomes Cohort #4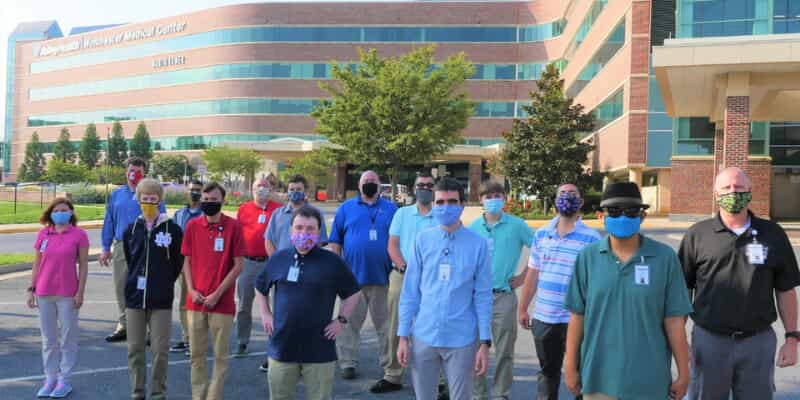 Despite the pandemic, we celebrated nine graduates of the 2019-20 Project Search program in August, and welcomed the fourth cohort in the fall. These exceptional local youth with developmental disabilities have learned work skills, built confidence and prepared for employment while working alongside Valley Health Winchester Medical Center caregivers. Learn more about the program and the latest cohort on the Valley Health blog.
Portia Brown Goes to the White House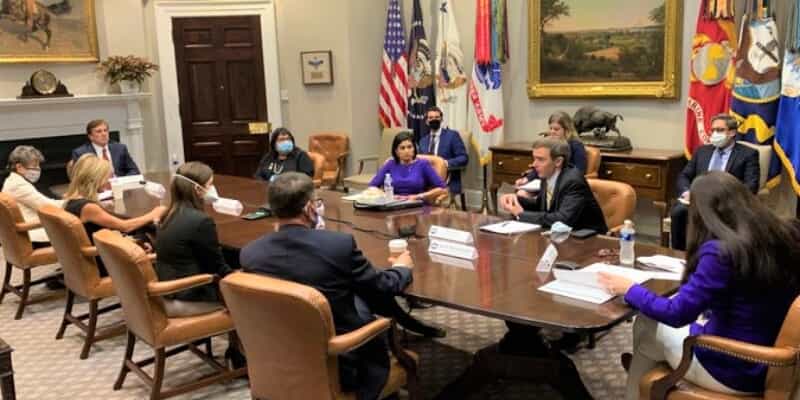 With only a day's notice, Page Memorial Hospital Vice President Portia Brown found herself in the West Wing of the White House, meeting with the U.S. Domestic Policy Council and Centers for Medicare and Medicaid Services (CMS). The National Rural Health Association tapped her to participate in the announcement of a new rural health initiative, the Community Health and Rural Transformation (CHART) Model.
WMC Performs 75th ION Case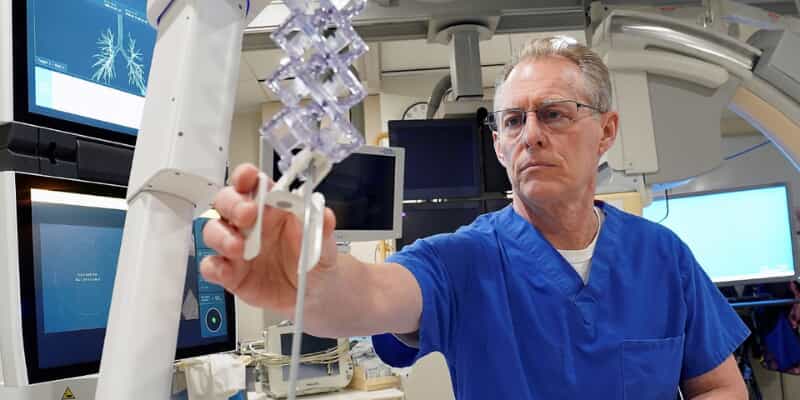 This fall Valley Health's lung cancer program team celebrated the completion of their 75th robot-assisted bronchoscopy, a significant milestone in the advancement of multidisciplinary lung cancer care for our community. This milestone is more than a number; it reflects the significant impact the program is having for patients in our region — helping to detect, diagnose and facilitate treatment of lung cancer sooner. Click here to learn more.
Valley Health Receives $1.5M for Integration of Behavioral Health, Substance Use and Suicide Prevention in Berkeley County
Valley Health, in partnership with Shepherd University and ADAPT (A Division for Advancing Prevention & Treatment) at the University of Baltimore's Center for Drug Policy and Enforcement (CDPE), was awarded a three-year $1.5 million Behavioral Health Integration grant to expand screening, early intervention and referral in Family Medicine Practices and train future nurses and social workers in Berkeley County, WV. Click here to learn more.
WMC Among Nation's Top Performing Hospitals for Treatment of Heart Attack Patients
Valley Health's Heart & Vascular Center at Winchester Medical Center received the American College of Cardiology's NCDR Chest Pain ̶ MI Registry™ Silver Performance Achievement Award for 2020, one of only 124 hospitals nationwide to receive the honor. Click here to learn more.
Point of Care Testing Launched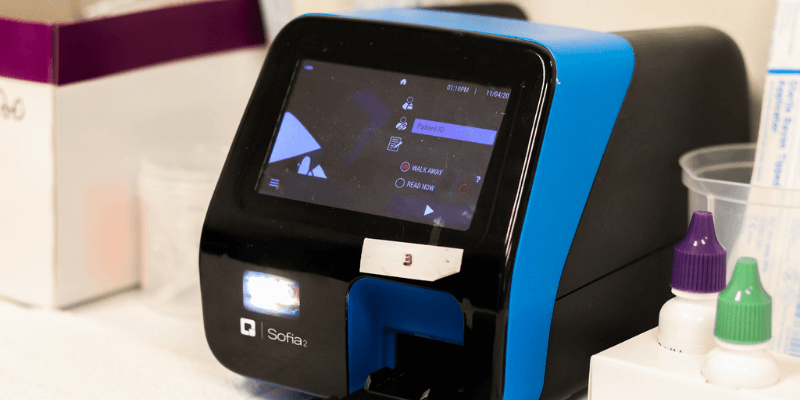 Right test, right time. There are many reasons why people need COVID-19 tests. Valley Health is here to provide guidance for the "right test at the right time," offering new Point of Care testing (also known as rapid testing) for those who are experiencing flu/COVID-19 symptoms.
Employees Thanked with Drive-In Movie Events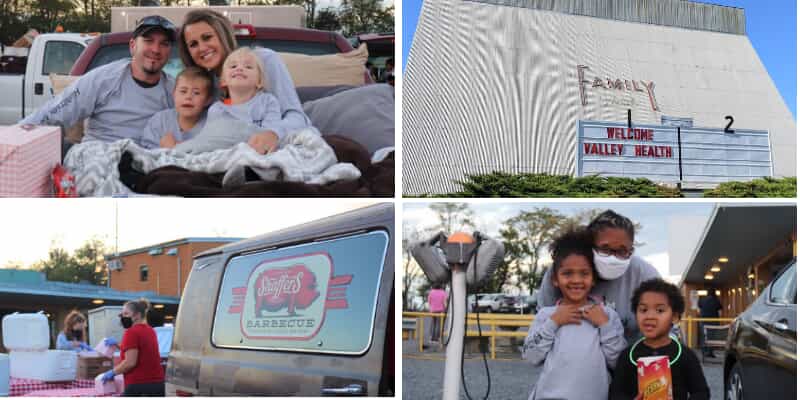 In October we treated our employees and their families to three nights at The Family Drive-In Theatre, in part to thank them for their exceptional work as COVID caregivers. Team members received boxed BBQ dinners, drinks, kettle corn, glow-sticks and more!
Holiday Turkey Hand-outs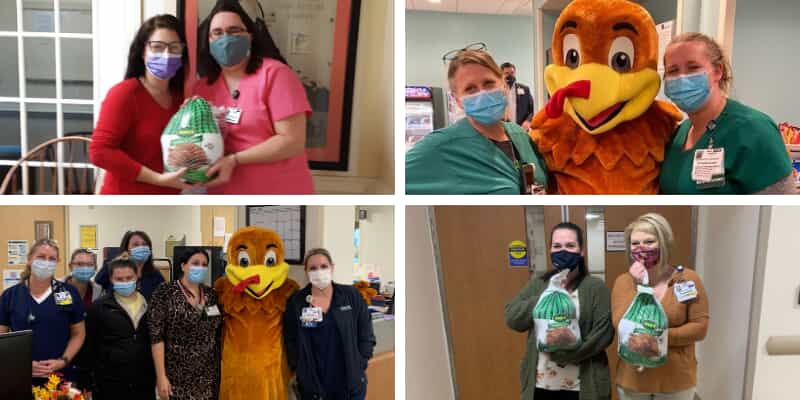 In November Mark Nantz (dressed in costume) worked alongside team members to distribute free turkeys to every employee for the holidays. This is just one of the ways we show appreciation to our dedicated team of Valley Health caregivers.
Shenandoah Memorial Hospital Receives Chest Pain Center Accreditation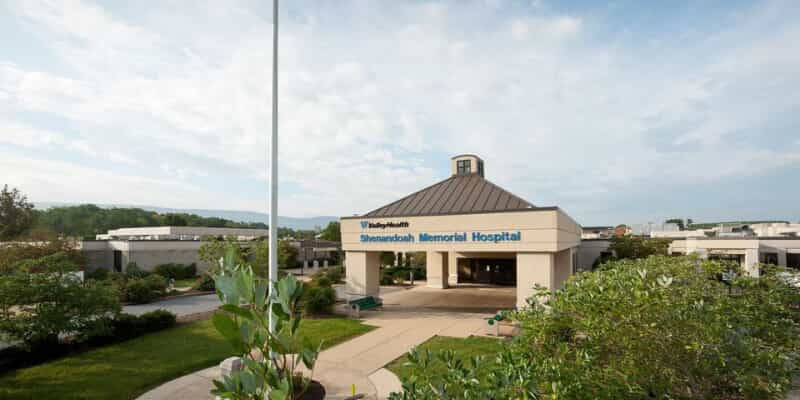 In November, Shenandoah Memorial Hospital received recognition from the American College of Cardiology for its demonstrated expertise and commitment in treating patients with chest pain. Click here to learn more.
Launch of #WorthIt Campaign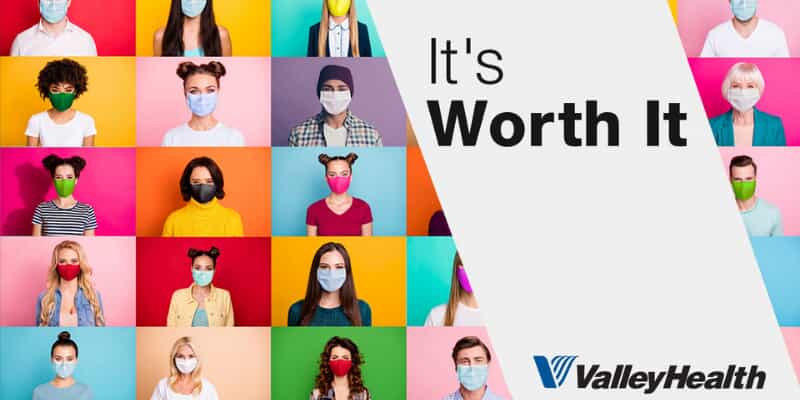 Wearing a mask. Washing your hands. Watching your distance. These simple steps can keep kids in school, businesses open, families healthy, and healthcare workers safe. And if you ask us, that's #WorthIt. We launched this campaign in an effort to renew commitment to taking proper precautions to limit the spread of COVID-19 and the flu.
Learn more and take a community pledge at valleyhealthlink.com/worthit.
West Virginia Hospitals Receive Gold Honors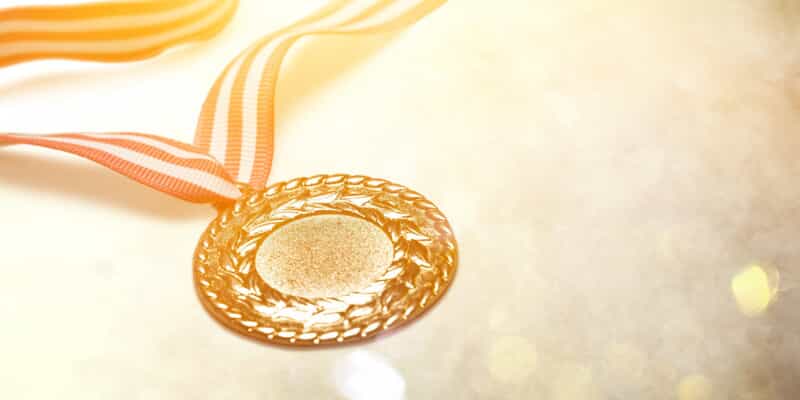 The West Virginia Hospital Association recognized Hampshire and War Memorial Hospital with 2020 Gold Honors in the Commitment to Excellence Program. Congratulations to our hardworking team members who ensure patients receive safe, quality care.
COVID-19 Vaccine Arrives – First Employees Vaccinated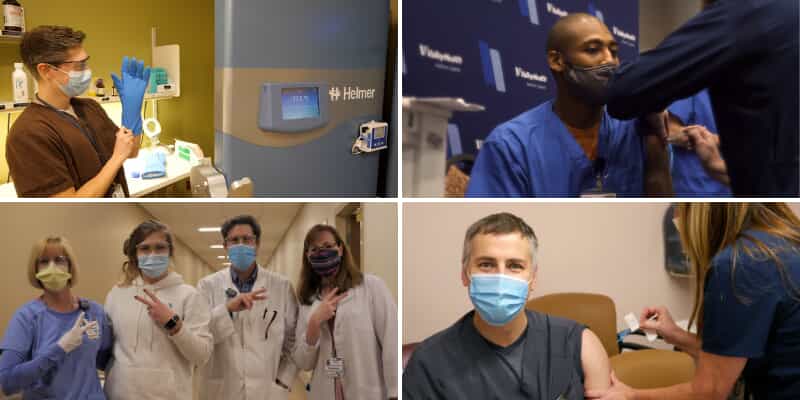 With ultra-cold storage ready and first shipments of the Pfizer-BioNTech vaccine received, we began the process of vaccinating our most at-risk healthcare workers on December 15. The delivery of a COVID‐19 vaccine signified an important milestone in preventing the spread of this virus in our community.
We thank all of our team members for their sacrifice, dedication and compassion as we find a way forward and celebrate the promise of a New Year. Warm wishes for health and hope in 2021!