Stronger Than Ever
Motivated patients like Sue Walter—a Valley Health laboratory employee and fitness instructor—prove that anything's possible, even after two total knee replacement surgeries
When Sue Walter, a beloved instructor at Valley Health's Wellness & Fitness Center, tells her students "you can do it!" and "the sky's the limit!" they always put more oomph into their workouts. That's because Walter's own journey to a healthier lifestyle is so inspirational, she's become a powerful cheerleader for others to take control of their health.
Walter had started working as a technician in Winchester Medical Center's Pathology Lab in 2005, and when she learned that WMC had plans to open a wellness center, "I wanted to get my foot in the door right away," she says.
Soon, Walter began to exercise there regularly, eventually earning her certification as a fitness and aquatics instructor and teaching classes in addition to working at her full-time job.
When she was diagnosed with arthritic knees in 2006, she knew she needed to be proactive about managing her pain to prevent it from worsening. She benefitted from conservative treatments for a time, but eventually her arthritis became increasingly painful, and she was ready to take the next step.
"It was clear that I was a candidate for total knee replacement [TKR] surgery, but I wanted to put it off as long as possible," Walter says. "At first, I was prescribed anti-inflammatories and steroid injections, which helped a lot, but I needed a longer-term solution." In 2016, after consulting with the expert orthopedic surgery team at WMC, she had TKR surgery on her right knee. The operation was so successful—and Walter so motivated to return to her daily activities—that she was back to teaching classes in water aerobics in just 10 weeks. She went on to earn a new credential as a certified personal trainer soon after that.
Nonetheless, her arthritis was increasingly causing trouble with her left knee, and one year later she returned to WMC for her second TKR surgery. "I did even better after the second one," she recalls. "I knew what to expect, so it was easier, and the entire care team—from the terrific nurses to my excellent surgeon to the rehab experts—was wonderful and extremely supportive of me as an athlete."
"Sue did great with the surgery because she was so well-prepared," explains her orthopedic surgeon, Thomas Courtney, MD. "And the physical therapy after surgery is a tremendously important part of the recovery and a big commitment on the patient's part. So it really helped at every step of the way that Sue was highly motivated."
Not long after her second surgery, Walter was able to push herself to yet another level, earning her certification as a BOGAfit instructor. A yoga-based fitness regimen that improves balance and flexibility, BOGAfit is done on floating boards in a pool. In addition, Walter initiated a new low-impact strength-training program at the Wellness & Fitness Center called Hit the Deck Strong.
The Continuum of Care
Walter's case may be unusual; after all, not every TKR patient will (or can) pursue such an active lifestyle following orthopedic surgery. But her story demonstrates how an optimal recovery depends on the right combination of expert care, physical therapy and—perhaps most important—the patient's determination to get better.
"In my practice, I usually recommend TKR as a last resort," Dr. Courtney says. "I always start by discussing all the options with my patients, such as managing the pain through cortisone injections and maintaining a healthy weight. But when these measures are not enough, and when a patient's bad days start to outnumber the good days, then it's time for TKR."
Many factors may put a patient at risk for knee damage, including obesity or a prior injury. In her case, Walter had struggled with her weight, which was close to 300 pounds in the late 1990s. Over the past 20 years, she managed to lose 115 pounds, and today she is keeping her weight stable through diet and exercise. But, says Dr. Courtney, her history of obesity may have played a role in the onset of her arthritis.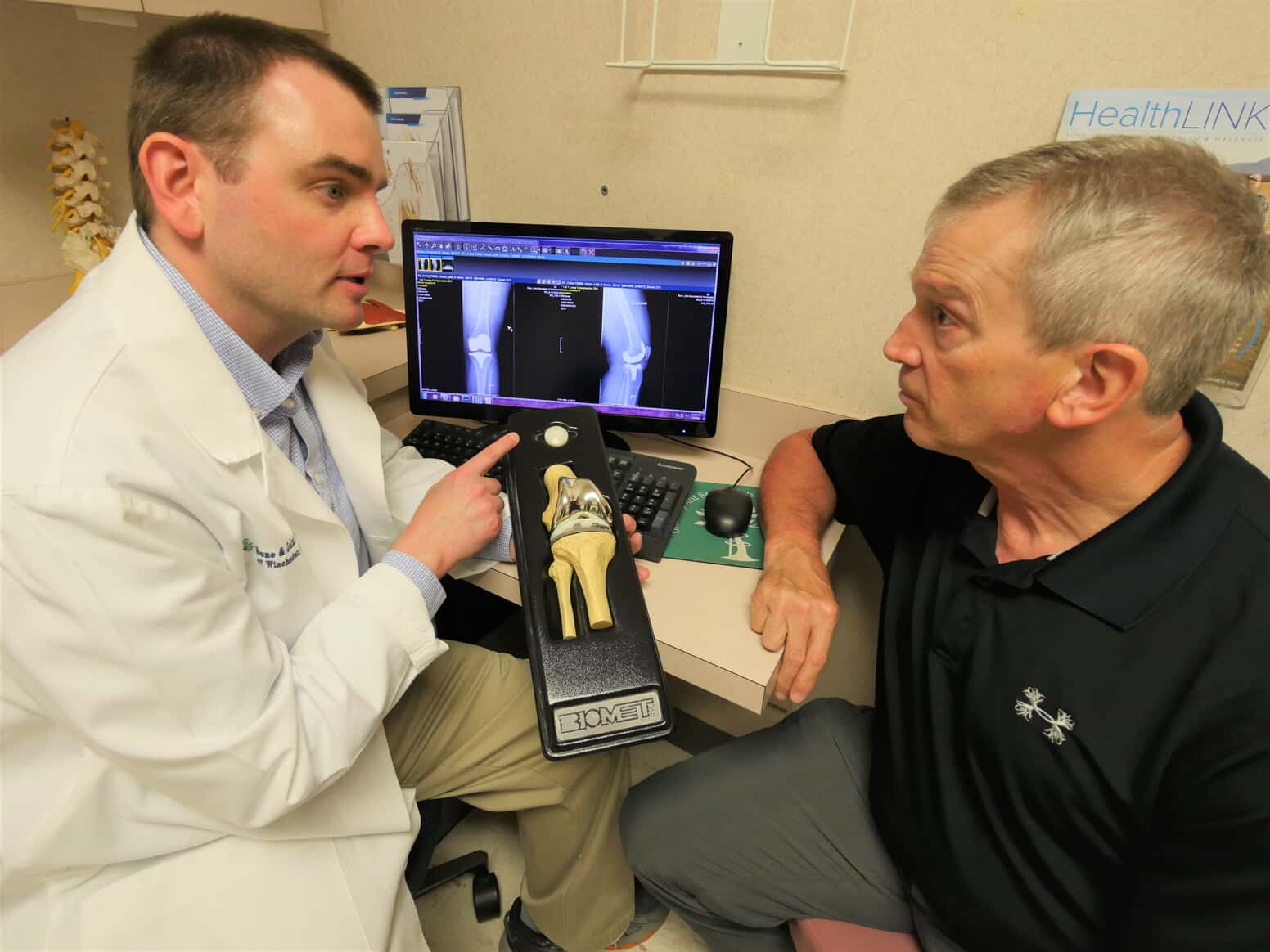 When it's determined that a patient is a candidate for TKR, he or she works with the medical team to develop a plan of care. The surgery itself lasts approximately one hour and involves removing damaged cartilage, resurfacing the bones and implanting metal components to re-create the surface of the joint. "We tailor the knee replacement to each individual," Dr. Courtney explains, "but the key with all procedures is to get patients moving their knee soon; the sooner they can get up and walk a bit, the better."
For this reason, the importance of post-surgical physical therapy can't be overstated. "After a patient's TKR, we have three main goals in physical therapy: to bend the knee, to straighten the knee and to muscle it up," says Chris Massonneau, physical therapist, who has been working with patients at Valley Health for the past 24 years. He teaches patients how to regain their range of motion through a variety of exercises, many of which can be done at home.
"I had the privilege of being Sue's physical therapist after her second TKR, Massonneau adds, "and she and I worked closely together to make the most out of her time in rehab. Sue had every advantage going into PT, given her fitness level. Her spirit, along with the seamless care she received at Valley Health, made her recovery that much easier."
Today, at age 64, Walter says she's feeling better all the time. "The main thing I have learned is that you have to make health a part of your life, physically, mentally and spiritually," she says. "And if I can pay it forward and share that message with others, well, then the sky's truly the limit."
To learn more about orthopedic services at Valley Health, visit valleyhealthlink.com/ortho. To learn more about rehabilitation services, visit valleyhealthlink.com/rehab.