Jenna
Author: Jenna RN at 5W
Date Submitted: May 4, 2023
Category: Careers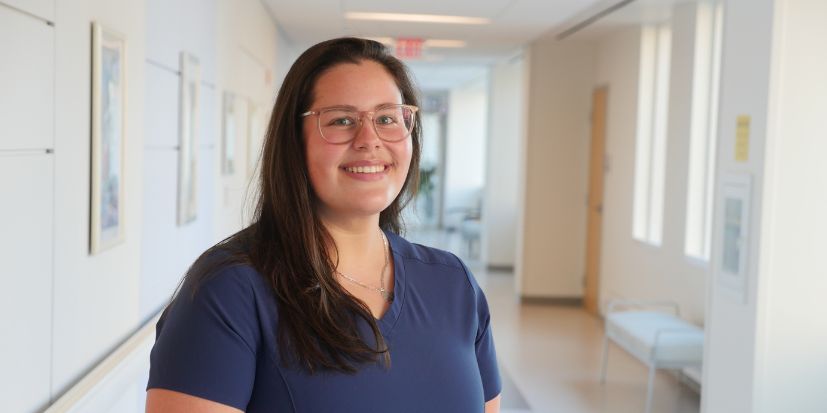 "The Nurse Residency Program(NRP) has been an essential resource to me thus far. When I first started as a new grad, I felt overwhelmed and even questioned my ability to be a nurse. I was grateful to have other new grads to talk with that felt similarly. The amount of support we give each other keeps us going during uncertain times."
Meet Jenna, RN I at 5W (GI/Endo/General Medicine) and graduate of the Nurse Residency Program, a year-long paid program that supports nurses in their first year.
"I always knew I was meant to go into healthcare ever since I was a young child. My mother worked in healthcare and whenever there wasn't a babysitter, I would tag along with her at work starting around the age of five. I remember the excitement I felt when I was able to go with my mother; it started with an assisted living facility where I would engage with the residents and jump in wherever I could to help. From that point on, I had two plans: to become a nurse, or if that failed, become a history teacher.
The Nurse Residency Program(NRP) has been an essential resource to me thus far. When I first started as a new grad, I felt overwhelmed and even questioned my ability to be a nurse. I was grateful to have other new grads to talk with that felt similarly. The amount of support we give each other keeps us going during uncertain times. I also appreciate that Kristin has made it very clear that she is always here for us. She is very easy to talk with, and I could not imagine a better program lead for the NRP.
One thing from the NRP I did not expect to learn is that even being a new grad, our voices and opinions matter. We are encouraged to speak up, voice our opinions, and do research to help improve our workplace and the outcomes for our patients.
My favorite part about working for Valley Health is tied between the benefits and the overall culture of the company, we have such great diversity and teamwork throughout."