Page and Hampshire Receive National Recognition
Hampshire Memorial Hospital (HMH) and Page Memorial Hospital (PMH) have both received national attention as recipients of awards from Premier, Inc., a leading health care improvement company.
(Robin Roberts, American television broadcaster and anchor of ABC's Good Morning America, poses with representatives from Hampshire Memorial Hospital at the Premier, Inc. award ceremony.)
Hampshire was one of just 14 out of more than 3,900 hospitals and health systems in the nation to receive a 2018 Supply Chain Excellence Award® this year. The award recognizes Hampshire's achievements in sustaining strong supply chain performance based on four industry standards for supply expenses: percent of total operating expense; percent of net patient revenue; adjusted patient days and adjusted discharges. Hospitals were grouped by size and adjusted patient case-mix to ensure that organizations of diverse sizes and complexity were considered equally.
"We are honored to have been recognized by Premier for the role Valley Health and Hampshire Memorial Hospital are playing in setting the standards for excellence in purchasing and supply chain management in the country," says HMH President Tom Kluge. "Our team has worked diligently to explore all options and adopt best practices to help reduce our supply expenses while enhancing our services," he adds.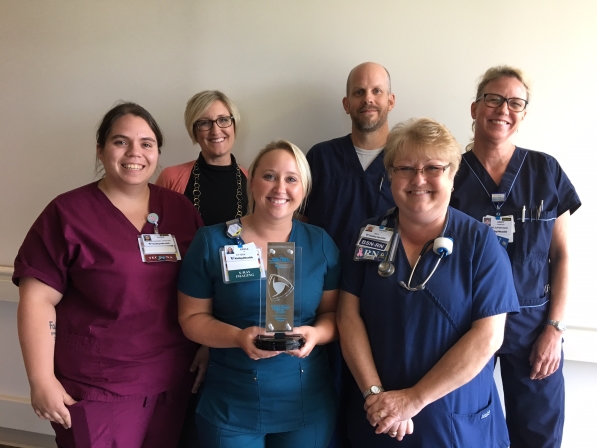 In a press release from Premier, David A. Hargraves, senior vice president, Supply Chain, said that Hampshire was "being recognized not only for its advanced purchasing abilities but also for its continuous work in collaborating to share best practices… and provide high quality care at the best cost."
Page Memorial Hospital was also one of just 14 hospitals in the nation to be recognized by Premier as a finalist for the 2018 QUEST® Award for High-Value Healthcare for consistently providing outstanding patient care and setting high standards in clinical excellence.
Page was selected as a finalist for achieving top overall performance in four of the five measured categories: effective care and coordination, prevention and treatment for leading causes of mortality, patient and family experience and patient safety. There were just two hospitals in the country to receive awards for meeting all five categories, which includes affordability.
(Staff from the Page Memorial Hospital care team pose with the hospital's 2018 QUEST® Award )
"For a critical access hospital such as Page to be included in the ranks of some of the largest, most prestigious health care systems in the country is just amazing and is a true testament to the quality work that is being done not just here in Luray, but throughout Valley Health," notes PMH President Travis Clark. "I want to congratulate all of our team members here at Page for faithfully living our mission and values every day, and I'd like to thank everyone at Valley Health, including our service line providers, corporate departments and administration for their undeniable commitment to ensuring that we are all healthier together!"
In a press release from Premier, Madeleine Biondolillo, MD, Vice President of Engagement and Delivery, stated that "QUEST facilities are setting new standards of clinical excellence nationwide [and] together, they have worked to outperform in healthcare. Premier congratulates Page for their fantastic achievements.