2018 Community Benefit Report: Educating, Empowering, Encouraging, Inspiring and Delivering Care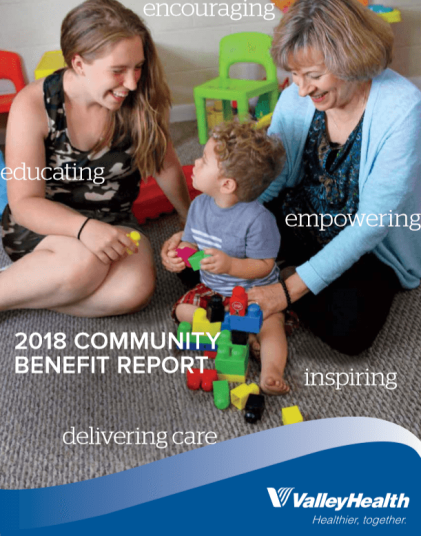 Encouraging cancer survivors. Inspiring our youth. Educating about health and wellness. Empowering those fighting addiction. Delivering care to those in needed. These are but a few of the ways the Valley Health team collaborates with regional partners to serve area residents.
Valley Health's 2018 Community Benefit Report was published this week, and it outlines some of the many way our organization invests in programs and services that educate, empower, encourage, inspire and deliver care, in partnership with organizations and institutions in Virginia, West Virginia and Maryland.
Our team offers health and wellness programs, support groups and free screenings, and Valley Health contributes to local educational, civic and nonprofit organizations through grants, sponsorships and other in-kind support. Valley Health supports and serves the region's neediest through the provision of charity care, discounted services and financial counseling. We are committed to workforce development, offering job training programs, scholarships, camps and career fairs, and we work with educational partners to prepare tomorrow's healthcare providers.
Valley Health collaborated with over 50 community partners and supported them with cash and in-kind contributions totaling almost $21 million between January 1 and December 31, 2017. Valley Health's comprehensive community contribution exceeded $143.5 million, including care and services classified as Community Benefit, Medicare reimbursement shortfall or bad debt expense. We provided $61.4 million in Community Benefit in 2017 that the Internal Revenue Service recognizes as directly supporting our tax-exempt status. This surpassed our estimated tax liability by more than $24.7 million.
Want to learn more about how Valley Health works outside our hospital walls to advance health and wellness? Over the next several weeks, you will find stories on our blog about the dedicated people and impactful programs that are making a difference as they educate, empower, encourage, inspire and deliver care to our neighbors and our communities.
Follow us on Facebook and visit our Community Benefit page to read about how we support and partner with those who are forces for health and wellness in our region.