Valley Health Quick Care Open in Front Royal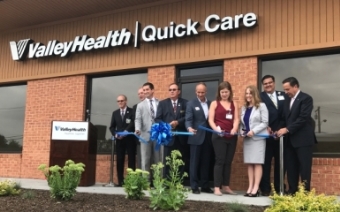 Valley Health and community leaders gathered on Friday, July 28 to cut the ribbon on a new Valley Health Quick Care in Royal Plaza on South Street in Front Royal.
The Quick Care will be open Monday-Friday from 8 a.m. – 6 p.m. and Saturday, 9 a.m. – 5 p.m., for speedy, cost-effective treatment of cold, cough, sore throat, earache, allergy symptoms, pink eye, poison ivy, urinary tract infection and more. Quick Care also offers sports physicals and immunizations. Adults and children age four months and older are welcome. Care is provided by Family Nurse Practitioners under the medical direction of Jillian Rogers, MD, family medicine provider based at Valley Health Urgent Care | Front Royal.
"Valley Health Quick Care and Urgent Care centers are located strategically to offer people a convenient, cost-effective resource for treating minor illness and injury if they either don't have a physician or their physician isn't available," said Jake Meza, Director of Valley Health Urgent Care. "We help people resolve minor issues before they get worse, become more costly to treat, and lead to lost time at school, work, or play. We're excited to be opening a second location in this community."
In 2016, Valley Health Urgent Care and Quick Care providers treated more than 82,000 patients.
Quick Care is a convenient walk-in option, but busy people also appreciate the on-line check-in feature, which helps them "skip the wait". 
Valley Health now operates three Quick Care and four Urgent Care centers in Virginia and West Virginia. Another Urgent Care is under construction at Rutherford Crossing in northern Frederick County and will open this fall.
Valley Health Quick Care is located at 415A South Street in Royal Plaza, across from Martin's Food Market. The phone number is 540-636-0495.