Father, Daughter Create Family Connection at Warren Memorial Hospital Pharmacy
Valerie Wells and her father, Jim, share something special: their love of pharmacy and the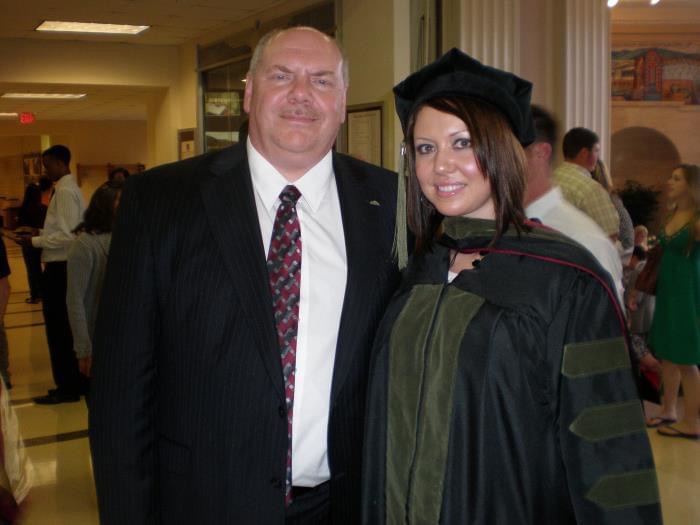 people they serve.
Pharmacy runs in the Wells family. Jim, who is now a per diem pharmacist, spent 36 years at Warren Memorial Hospital (WMH) as Director of Pharmacy and Cardiopulmonary. Valerie is currently lead pharmacist and residency program director at Valley Pharmacy | Warren Memorial Hospital.
"I always downplay when people say she followed in my footsteps," Jim says. "She created her own course. If I did anything, I put her in a place to create her own idea of what pharmacy is and what she can do with it."
Originally from Gary, West Virginia, Jim attended West Virginia University when pharmacy was a five-year program. Upon graduation, he assisted in creating the first hospital pharmacy department at Stevens Clinic Hospital in Welch, West Virginia. After 10 years, he and his family moved to Front Royal, where he worked at Trout Drug. Then in 1987, he became Director of Pharmacy at WMH.
"The people—the physicians, the nurses, kitchen staff, maintenance, housekeepers—I admired everyone," Jim says about his time at WMH. "We all had the same purpose of helping people."
Jim currently serves as the chairman of the WMH Foundation Board of Trustees.
Although Valerie spent much of her youth hanging out at whichever pharmacy her father was employed, her heart was set on being an attorney. That all changed one summer when she started working in a Front Royal pharmacy during college in order to make money. Over the next 18 years, she went from cashier to technician to pharmacist there, forever cementing her love of the profession.
"I like people," she says. "Pharmacists are the last line before a patient goes home from the hospital. We help them understand their medications and physician orders, and we make pharmacy attainable to the average person."
Valerie previously worked at Winchester Medical Center's pharmacy, where she acquired knowledge of both the profession and the health system. But when the WMH pharmacy opened in July 2021, she "went home" to help open it.
"Coming back to Warren was like coming home," she says. "People here are just amazing."
Valerie says she is extremely proud of their Beds to Meds program, in which pharmacists ensure patients receive their medications before they leave the hospital. The program had existed in Winchester for years prior, but when the WMH location of Valley Pharmacy opened, they were able to bring the program to Warren.
Valerie credits her father for making an impact on her life and his patients' lives.
"My dad made a big impact here and people respect him," Valerie says. "They know Jim's daughter. I have big shoes to fill."
To learn more about Valley Pharmacy, click here.