Valley Health Voices: Hispanic Heritage Month
Each year, Valley Health celebrates Hispanic Heritage Month from September 15 - October 15.
Nationally, Hispanic Heritage Month started in 1988 after it was expanded from just a week-long celebration starting in 1968. This tradition celebrates the history, culture, and contributions of Americans with ancestry from Spain, Mexico, the Caribbean and South America.
Valley Health team members have shared what celebrating Hispanic Heritage Month means to them, their personal stories and their connection to health care.
Stefany, RN, Winchester Medical Center
Hispanic Heritage Month has a significant meaning in my life. It makes me feel proud of my roots and makes me proud of how far I've come. As a first generation immigrant, my goal in life is to work hard, achieve my dreams, and make my parents proud.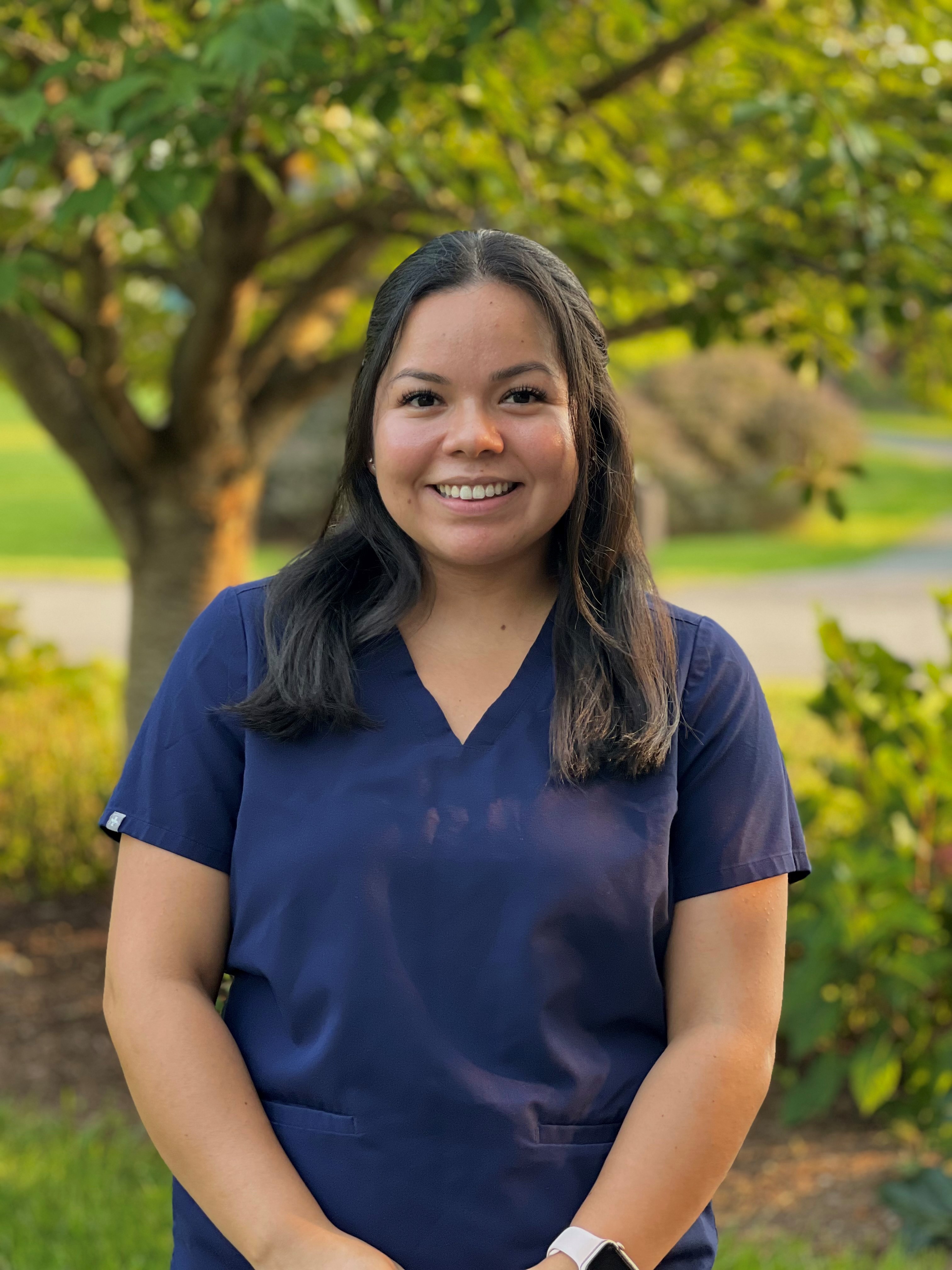 Without the help of God and my parents, I wouldn't be where I am today. I celebrate Hispanic Heritage month by eating one of my favorite El Salvadorean dishes.
Pupusas are one of the best comfort foods from my country. I also love learning about other Latino cultures and enjoying their cuisine.
I chose Valley Health because it's an organization that cares about the community and their employees. They have given me amazing opportunities. I was able to work full time while also utilizing the tuition assistance program to get into my nursing career. I work in the neuro/trauma critical care unit at Winchester Medical Center.
Jose, Physical Therapist, Warren Memorial Hospital Rehabilitation - Riverton Physical Therapy
Hispanic Heritage Month means a refocusing on my family roots. My mother is Puerto Rican and my father is Dominican who both landed in New York when they were teenagers. My parents and grandparents did an excellent job instilling the beauties of their Caribbean culture into our everyday lives.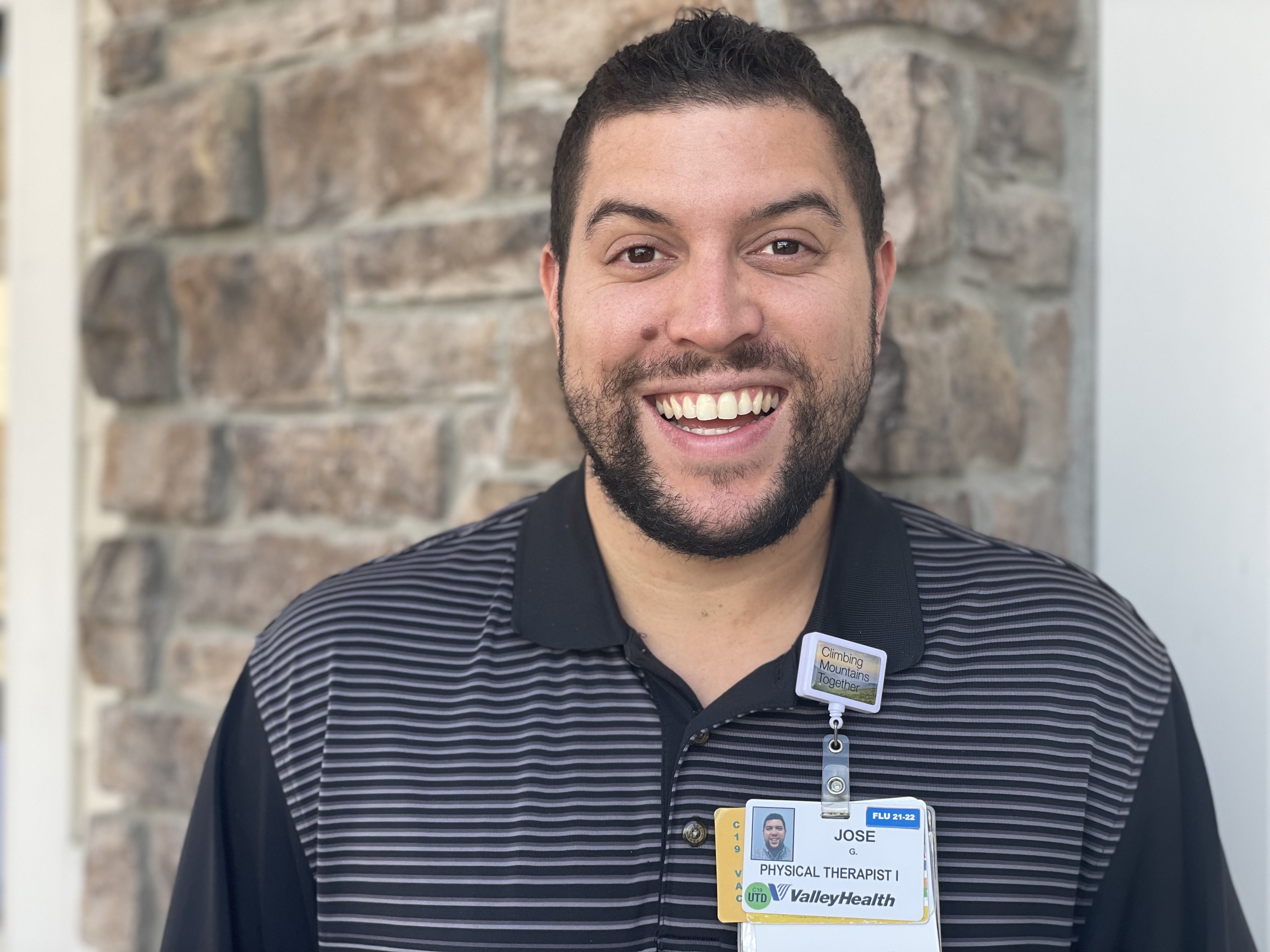 This month reminds me to be grateful for the delicious foods I grew up with, play the Salsa and Merengue that rang out in my childhood home and pass along traditions to my young family. There is a significant amount of pride that I feel when I reflect on my Hispanic heritage. My family worked hard to preserve our Caribbean culture so that celebrations and traditions can be more passionate and wholesome.
I'm planning to celebrate Hispanic Heritage Month with lots of Puerto Rican food with my family, try to play some dominos with my family, and reminisce about influential family members who have passed away.

When I was looking for a new job two years into my physical therapy career, Valley Health checked all the boxes with what I was looking for in a clinic. They have a great team atmosphere with a departmental director who cares about her employees.
The opportunities for clinical growth alongside experienced clinicians was very attractive. The benefits package is excellent for my growing family and to top it off my commute is less than 20 minutes. I work at Warren Memorial Hospital's Riverton Physical Therapy location.
Nivardo, speech pathologist, Warren Memorial Hospital and Multispecialty Clinic
Hispanic heritage month to me means taking the time to reflect on the sacrifices and struggles that my family made to immigrate to a brand new country.
It also means feeling free to celebrate my family's culture with others and having the opportunity to listen and to learn about other Hispanic cultures as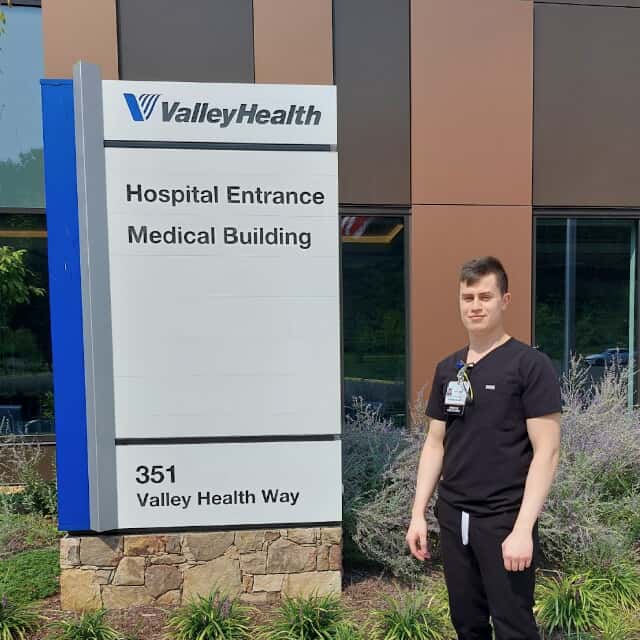 well as Latin America is a diverse place.

I celebrate Hispanic Heritage Month by eating authentic Mexican food with my family at home. I also listen to my parents talk about their stories about growing up in Mexico and what it was like for them to immigrate to a new country.

I chose to work at Valley Health because it is a top quality health system close to home. It was one of the few places of employment during my interview process that allowed me to work in different settings involving both outpatient and inpatient populations.
It also allowed me to work with diverse groups of people that varied in ages and diagnoses. This was important in my decision making process as I wanted to work with both adult and pediatric populations.
Madelyn, discharge planner, Social Services, Care Management at Winchester Medical Center
To me, it means a time to recognize some of the rich cultures included in the Hispanic culture.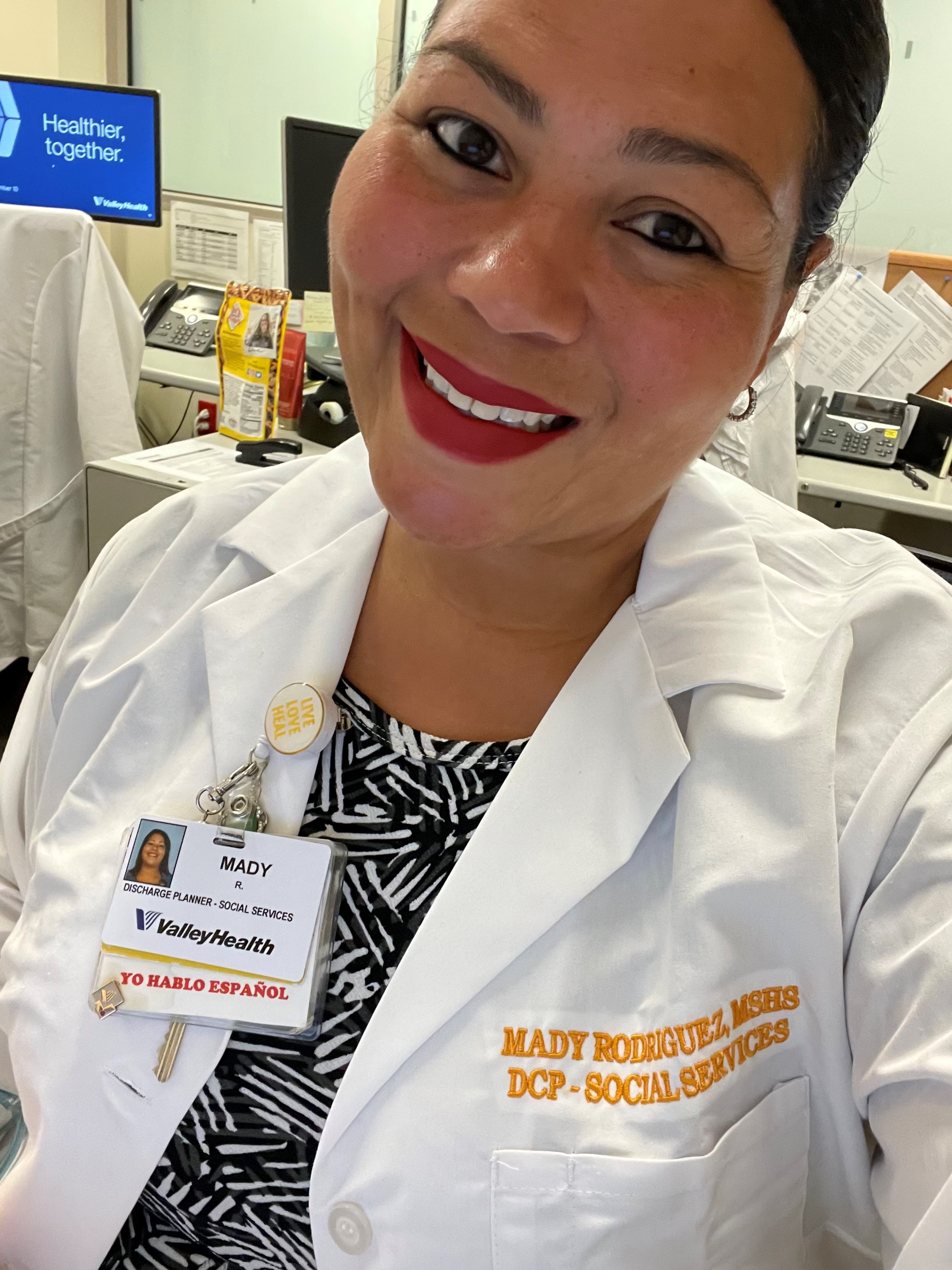 September 15 is Independence Day for all Central American countries, Sept. 16 is Mexico's Independence Day and Sept 18 is Chile's Independence Day.
As a Hispanic born and raised in the U.S., it's a time to celebrate a part of me that has been instrumental in my success as a contributor to this community and our healthcare system.

During this month many cities in Northern Virginia have festivals to celebrate the independence of their prospective country.
The City of Winchester holds a celebration every year called Celebracíon de Winchester, which will be on September 24 in Old Town from noon until 4 p.m.

Over 17 years ago I had the opportunity to do what I love, which is helping people in their time of need. I was hired on as a healthcare interpreter and transitioned to the care management team back in 2018.
Jorge Posadas, MD, General Surgeon, Winchester Medical Center and Hampshire Memorial Hospital
Hispanic Heritage Month means that we get to celebrate our identity but, also we get to share our values and views with the rest of the country. I believe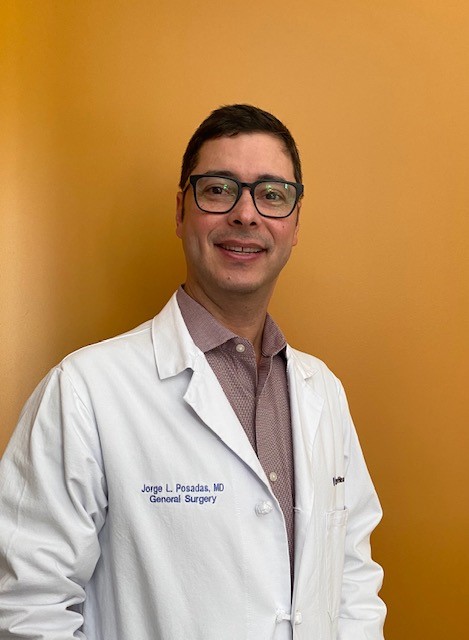 we can all learn from each other and understanding backgrounds and beliefs is the first step to do so, while educating ourselves.

We celebrate our Hispanic Heritage all year long. We constantly pass along to our daughters our customs and values, like typical foods, traditions, music, and the importance of family unity.
We have a large extended family all over the world and we make an effort to get together once a year either in The States or overseas.

After residency I wanted to work close to the Washington, D.C. metropolitan area because my two brothers (and now my parents) live there. I needed to visit only one place in my interview process.
Once I came to Winchester I decided that the Hospital and my Practice were going to provide everything I needed for a successful career. I also realized Winchester was a great place to raise our two daughters.
Daisy, RN, Page Memorial Hospital Emergency Department
I have worked as a registered nurse, at Page Memorial Hospital for over three years on the Medical-Surgical Unit. I chose to work at PMH, because of the great learning environment, the welcoming staff and kind patients!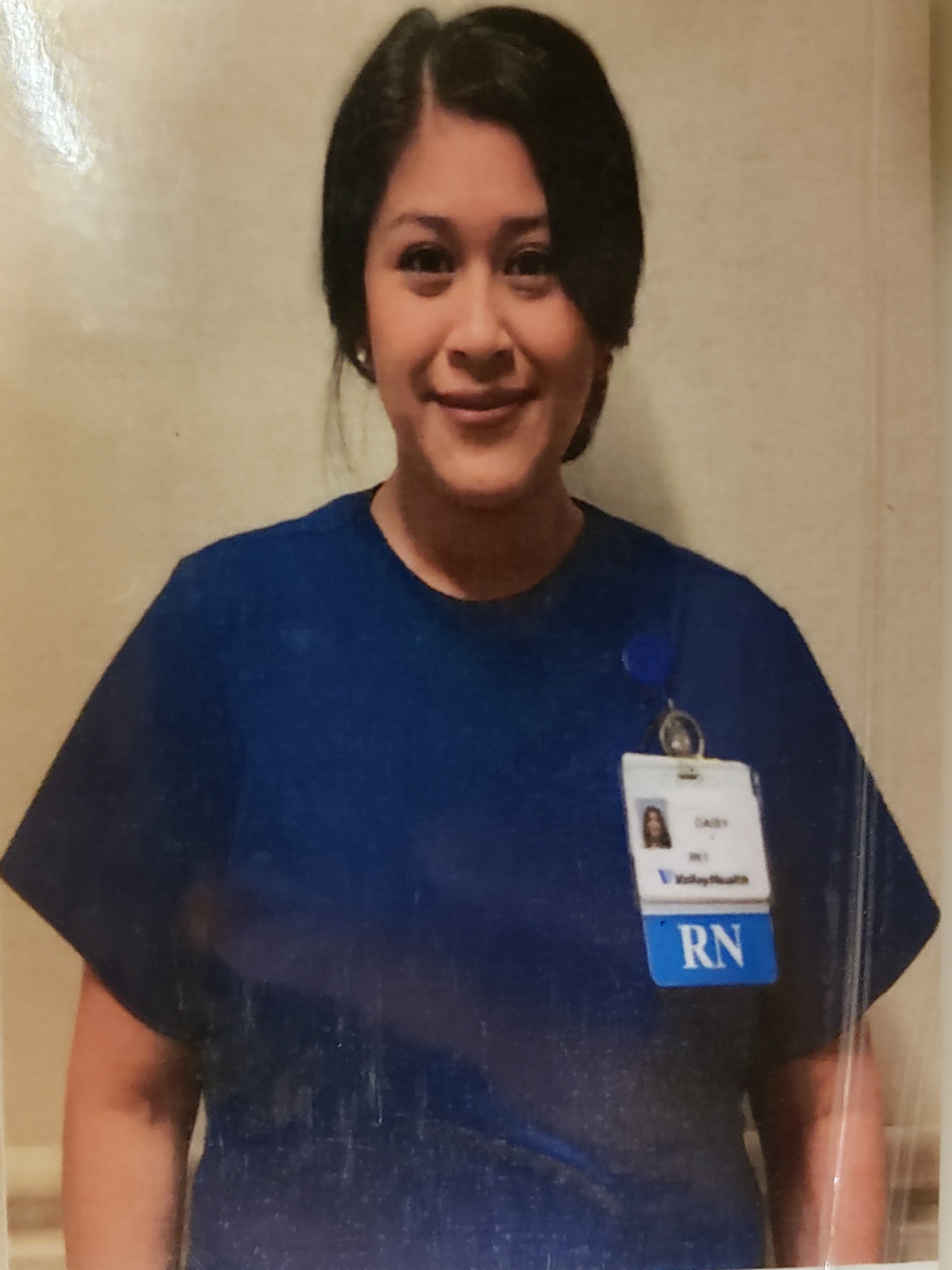 Through Valley Health, I have obtained certifications for continued education, adult mental health first aide, specialized dementia care provider, Advanced Cardiovascular Life Support (ACLS) and Patient Advice and Liaison Service (PALS). Recently, I accepted a full time position in our Emergency Department - I'm really excited!

I was born in Virginia and raised in a Mexican Household, making me a first generation Mexican-American. On my maternal and paternal side of the family, I am the first to graduate a university and obtain a BSN. For my family, this was a shared accomplishment.
My education allows me to inform, educate, and care for our Hispanic community. My family has said, "tu eres nuestro orgullo hispano", and this translates to "you are our Hispanic pride". To my family, I am doing more than just working an average job but impacting the community.
For my parents and grandparents, education past middle school was out of reach. I juggle family responsibilities, school work, and working full time to obtain my degree. Defeating the odds is a win-win for all of us.

For my family and friends, Hispanic Heritage month is exciting! We celebrate the independence day of many Hispanic countries. We reflect and recognize the Hispanic people who made history and are positively influencing society.
It's an exciting and sometimes emotional time, but we celebrate with food, music, dancing, flower arrangements, and with the company of friends and family.
David, Valley Health Senior Recruiter
To me, Hispanic Heritage Month shines a spotlight on the diverse group of people who make up the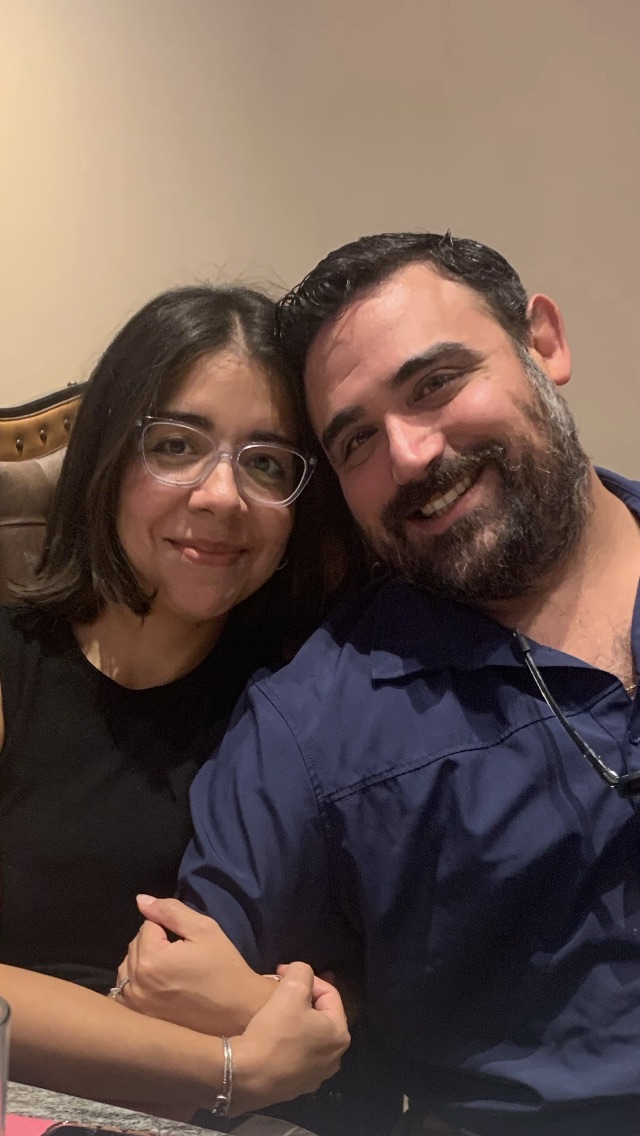 Hispanic race. Our language connects us, but every Hispanic Country has their own unique culture, traditions and beliefs.
I feel like my family celebrates our Hispanic heritage every day in many simple ways, including teaching our daughters Spanish.
I chose to work for Valley Health because I wanted to work for an organization where I could hire people from our community to serve our community. I also wanted to make a meaningful impact in the lives of others.