Winchester Medical Center Trauma Center and Foundation Team Up to Equip WPD First Responders
A contingent of Winchester Police Department officers descended on WMC last week…and left with 45 new mass casualty trauma bags courtesy of the WMC Foundation. WMC Trauma Services requested $10K funding to provide patrol and school resource officers with a bag of lifesaving essentials to use before EMS arrives.
"Bleeding is the leading cause of trauma death," Terral Goode, MD, Medical Director of WMC's Level II Trauma Center, reminded the officers and others gathered for the presentation. "The very best thing is to control bleeding; the golden hour is very real," he continued. "You all are a very crucial part of our team in our mission to deliver the very best care to our patients."
In an active shooter or mass casualty situation, law enforcement personnel may need to provide immediate, life-saving measures until the scene is secure for EMS entry.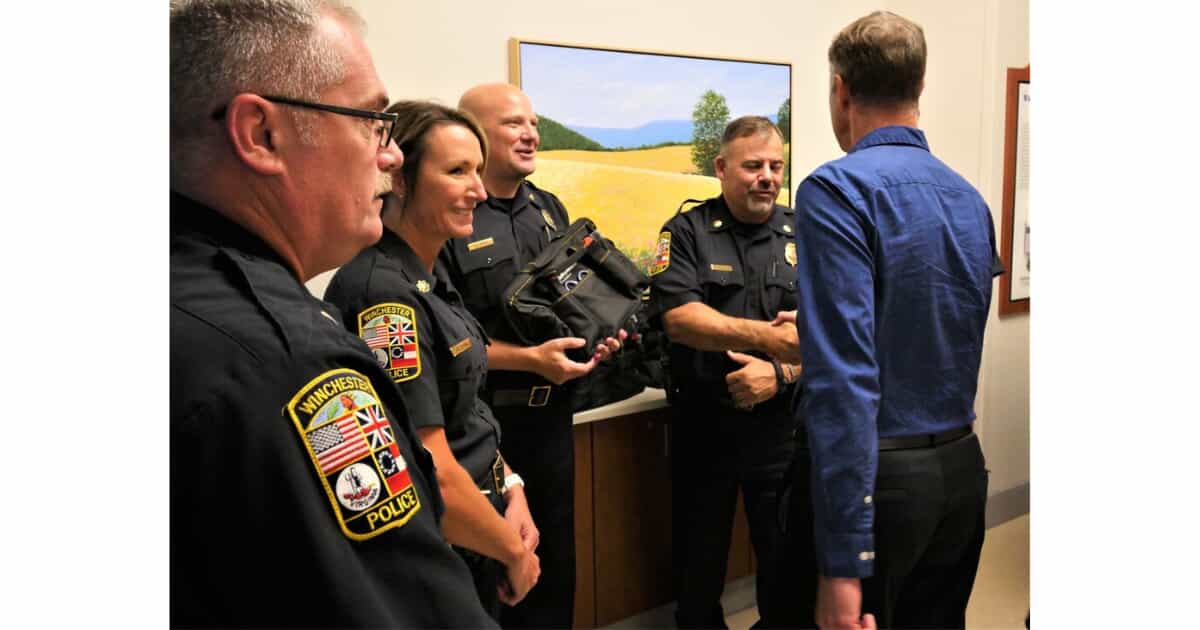 Each of the 45 trauma bags contains medical-grade products: a variety of tourniquets, wound packing supplies, chest seals, and QuikClot, a hemostatic agent that causes blood to coagulate. Officers receive training from Winchester Fire & Rescue personnel, who attended the presentation last week.
Trauma staff and WPD have a process for routinely swapping out items before their expiration, explained Autumn Davis, RN, MSN, Trauma Program Manager. She and Perry McAlister, RN, BSN, Injury Prevention and Outreach Coordinator, worked with WPD Captain Wally Stotelmyer on the initiative.
"This is fantastic," said Winchester Police Chief John Piper. "Gone are the days when police officers came out to a scene and waited for our medical professionals, our fire and rescue team, to come there…We lost valuable time – and sometimes lives – over the years…We're fortunate to have you all as partners."
WMC's state-designated Level II Trauma Center is committed to improving outcomes for the approximately 1,700 trauma patients it treats each year. This includes collaborating with community partners to ensure patients receive the best definitive care in the field and en route to the Emergency Department, Davis explained.