From an Idea to Reality: The Shenandoah Memorial Hospital Sensory Room
A new space at Shenandoah Memorial Hospital originally intended as a consultation area now has an innovative purpose.
During recent renovations and a move to a new area in August 2021, two SMH team members had a vision for a space previously intended to become a consultation room. Dr. Kyla Sine, DPT, director of SMH Rehabilitation, and Dr. Kate Von Schuch, pediatric team lead, recognized the number of patients with sensory needs who would benefit from a dedicated room.
"We had to use the space temporarily for registration until the main waiting and registration areas were completed in February 2022," explains Dr. Sine. "It was during that time that I began thinking about how we might better be able to use the space. We knew that creating this space would allow us to expand sensory treatment options."
Once the space was available following construction, Drs. Sine and Von Schuch worked together to turn their sensory room idea into reality!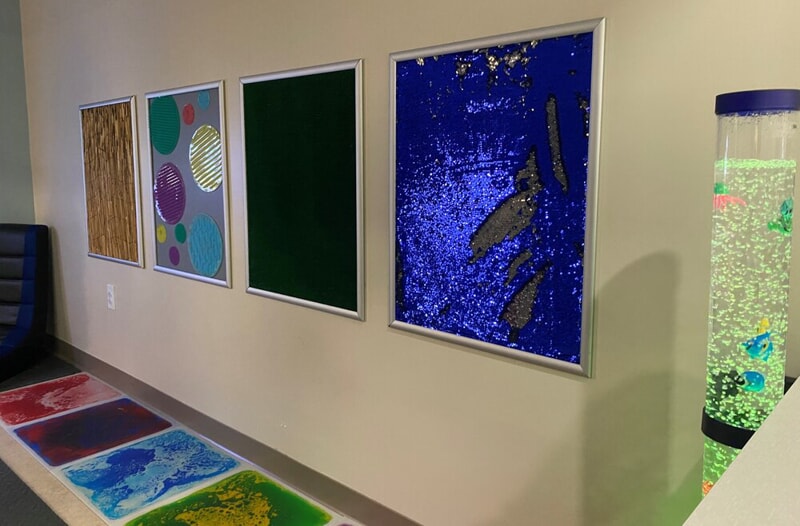 "The sensory room has been such a wonderful addition to our pediatrics space and has really elevated the type of care we can provide to help all of our patients meet their needs," Dr. Von Schuch says. "The room provides any and all needs for our pediatric patients, including weighted blankets, vestibular input from rocking chairs or discs, visual input from stars on the ceiling to a customizable light board, various sensory textures on the walls, a bubble tube for visual and calming feedback, and a variety of toy options that a child can use to meet their needs including, but not limited to poppers, squeeze toys, and other fidgets."
The space also utilizes low lighting, a sound machine with soothing music, white noise, and plenty of space for a child to play how they would like. A traveling pediatric occupational therapist recently said:
"I wanted to reach out to you and let you know that the sensory room has been quite the success with all my patients! I was able to take my Thursday afternoon and Friday morning kids there last week and it was so beneficial to have because my patients were able to regulate and calm their bodies down while in the room. I had a few kids that I started in the sensory room wanting to return after transitioning to my treatment room because they recognized how regulated they were while in the sensory room!"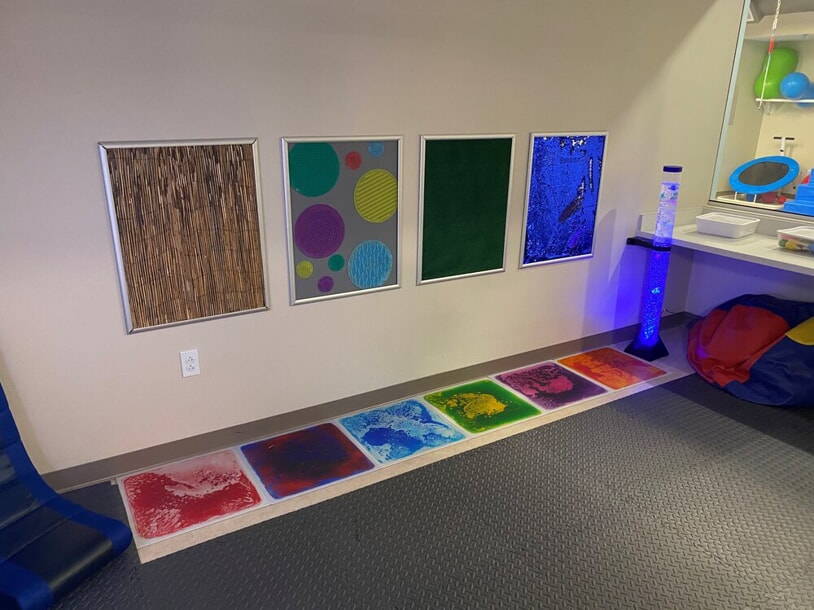 Parents are also writing to SMH to let staff know how much they appreciate the thoughtfulness and intentionality behind the room.
"How amazing and wonderful the new pediatric space is compared to the old space. The sensory room has been the best addition to our therapy routine. I never knew such a room could exist and thought it was really innovative! I can see a lot of progress with my child since we've transitioned over from the previous space."
"The sensory room is something I am taking ideas from to replicate at home. I have seen how it positively impacts my child!"
"Go check out the sensory room – it is the coolest thing I've ever seen! I had no idea such a wonderful thing could exist! I want to just hang out in there while my child does their session."