Valley Health Cancer Center Earns Rectal Cancer Program Accreditation
Winchester Medical Center Program Is the First in Tri-State Region to Meet Rigorous Standards
The Valley Health Cancer Center at Winchester Medical Center has earned a three-year accreditation from the National Accreditation Program for Rectal Cancer (NAPRC), a quality program of the American College of Surgeons. Winchester Medical Center (WMC) is the first hospital in the tri-state area, and one of only 23 in the nation, to receive this accreditation to date.
To achieve voluntary NAPRC accreditation, a rectal cancer center must demonstrate compliance with the NAPRC standards addressing program management, clinical services, and quality improvement. Centers are required to have a multidisciplinary rectal cancer team that includes clinical representatives from surgery, pathology, radiology, radiation oncology, and medical oncology.
Additionally, the WMC program met standards addressing the clinical services it provides, including Carcinoembryonic Antigen (CEA) testing, Magnetic Resonance Imaging (MRI), and Computerized Tomography (CT) for cancer staging, which offer important data for timely treatment planning.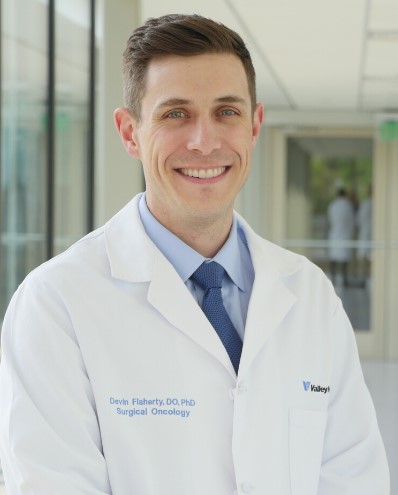 "We're proud to be among a small number of rectal cancer programs in the country that have earned accreditation because it speaks volumes about the quality of care our patients receive," said Devin Flaherty, DO, PhD, FACOS, FACS, Medical Director, Valley Health Surgical Oncology, and current program director of Valley Health's rectal cancer program. "This was a very rigorous accreditation process. Our achievement reflects the work, collaboration and commitment to excellence of the entire multidisciplinary rectal cancer team."
Accreditation by the NAPRC is granted only to those programs that are committed to providing the best possible care to patients with rectal cancer. The NAPRC provides the structure and resources to develop and operate a high-quality rectal center, and accredited programs follow a model to ensure multidisciplinary, integrated, comprehensive rectal cancer services.
Most adults are aware of colon and rectal cancer and the recommendation to start screening by having an initial colonoscopy at age 45, Flaherty explained. "But while colonoscopy is the first step in diagnosis, the rectum is a unique organ, and the overall approach toward rectal cancer is different than that of colon cancer. Its staging and treatment are more complex, and recovery is different, too. Caring for these patients draws on the expertise of a dedicated, multidisciplinary team."
Rectal cancer programs accredited by the NAPRC undergo a site visit every three years and are also accredited by the American College of Surgeons Commission on Cancer.
This year, the American Cancer Society estimates, more than 45,000 new cases of rectal cancer will be diagnosed in the U.S. Rectal cancer is most treatable the earlier it is detected. Consult your provider if you are experiencing bleeding, discomfort or a change in bowel movements.
For more information on colorectal cancer services at Valley Health, visit www.valleyhealthlink.com/colorectalcancer.