Major Milestone for Lung Cancer Program: WMC Performs 75th ION Case
In November of 2019, Valley Health's lung cancer program launched robot-assisted bronchoscopy at Winchester Medical Center, becoming the first facility in the Mid-Atlantic region to use Intuitive Surgical's new ION Endoluminal System. The ION system, which enables minimally invasive biopsy in difficult-to-reach peripheral areas of the lung, offers superior visibility and a higher degree of precision for Valley Health's interventional pulmonology team.
Last week, the team celebrated the completion of their 75th robot-assisted bronchoscopy, a significant milestone in the advancement of multidisciplinary lung cancer care for our community. This milestone is more than a number; it reflects the significant impact the program is having for patients in our region — helping to detect, diagnose and facilitate treatment of lung cancer sooner.
Our interventional pulmonology team's use of the ION has delivered more accurate and precise biopsy of peripheral lung lesions for our patients, as reflected by significant improvements in diagnostic yield using the new endoluminal system. By combining robot-assisted technology with endobronchial ultrasound (EBUS), the ION has also enabled our multidisciplinary lung cancer team to determine a diagnosis and staging for patients in a single procedure. This technology is also used to accurately mark lung lesions for more targeted radiation therapy, as well as surgery.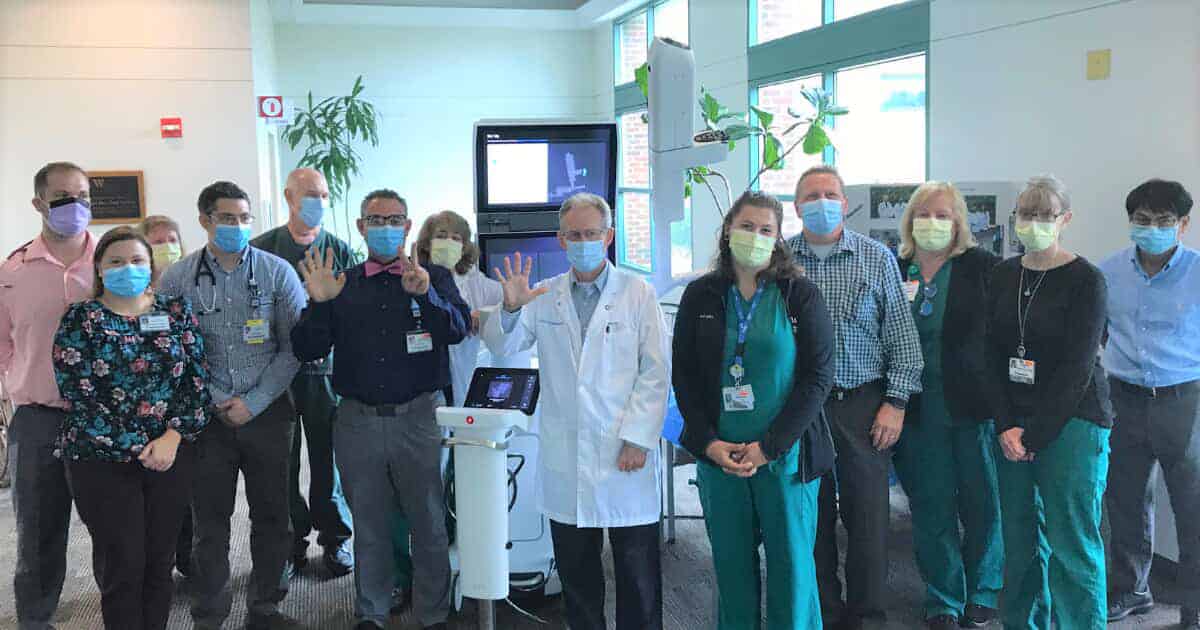 "Our multidisciplinary team approach to lung nodules, combined with this powerful new technology, provides our community and region the most up-to-date and comprehensive care available for lung cancer," remarked T. Glen Bouder, MD, interventional pulmonologist and member of Valley Health's Lung Nodule team.
Valley Health has one of the most comprehensive pulmonary/thoracic programs in the region for the diagnosis and minimally invasive treatment of lung cancer. Low dose CT lung screening is available at all Valley Health hospitals for adults with a history of smoking who are at high risk of lung cancer. The screening program has extended to include patients who have an incidental lung nodule found during routine or emergency imaging. Valley Health's multidisciplinary Lung Nodule Clinic specializes in expediting the workup of patients with lung nodules or lesions and provides assessment and options for further testing and follow-up.
The efforts of our multidisciplinary team were recognized last year as a designated Center of Excellence by the Go2Foundation for lung cancer.