Valley Health Lab Team Manages More Than 5,000 COVID-19 Tests Since March
We recently caught up with members of our COVID-19 Lab Team who have been managing the safe test collection, transport, analysis, documentation, and notification process for Valley Health patients with suspected Coronavirus (COVID-19).
Since March 5 over 5,000 COVID-19 tests have been collected at Valley Health hospitals, Urgent Care centers, physician offices and other COVID-19 collection sites. This milestone is a testament to the work of our nurses, medical transport teams, laboratory specialists and the leaders who support them.
Joe Litten, Ph.D., Laboratory Director, was quick to extend credit to Jaime Delgadillo, Microbiology Manager of the Winchester Medical Center Laboratory, Lori Moorhouse, Quality Assurance & Education Specialist, and Katherine Dyer and Shawna Homer, both histotechnologists, for their work in devising an effective approach to manage the testing process.
"It became clear early on that we needed to develop a process to ensure consistent collection, safe handling and transport," said Delgadillo.
This led to the creation of the COVID-19 Lab Team, an interdisciplinary group that organizes testing kits and oversees the transportation and reporting process for collected samples. The work they are doing behind the scenes is vital in the fight against COVID-19 in our community.
As the incidence of the virus increased, regional collection sites were established in Winchester, Mt. Jackson and Front Royal to supplement the ongoing testing efforts at each of Valley Health's hospitals. This increased the workload shared by the COVID-19 Lab Team.
Frustration over limited access to testing has been felt worldwide. Shortages of key chemical ingredients and physical components of testing kits (swabs, containers, etc.), coupled by manufacturing closings due to the pandemic, have led to scarce resources. The availability of testing supplies has recently improved.
Effective testing requires a long swab to be inserted through the nose and into the floor of the nasal canal, also known as the nasopharynx space. The swab is left in place for several seconds to absorb secretions then slowly rotated during removal.
"If you had one of those collected, you'll remember. It's not a very pleasant experience for the patient." Delgadillo remarked.
A limited number of tests have been processed through the Valley Health lab in Winchester, due to ongoing supply constraints. Most tests collected at Valley Health sites in Virginia and West Virginia are sent to private or state-associated labs. The COVID-19 Lab Team monitors all results.
Of the 5,000+ collections ordered, roughly 12% have been positive for COVID-19.
Those who are tested for the virus at a Valley Health facility are instructed to self-isolate until results come back. When results are ready, a member of the COVID-19 Lab Team notifies a patient's provider, who in turn communicates this information with the patient.
Through it all, the COVID-19 Lab Team remains driven to provide safe, well-coordinated care.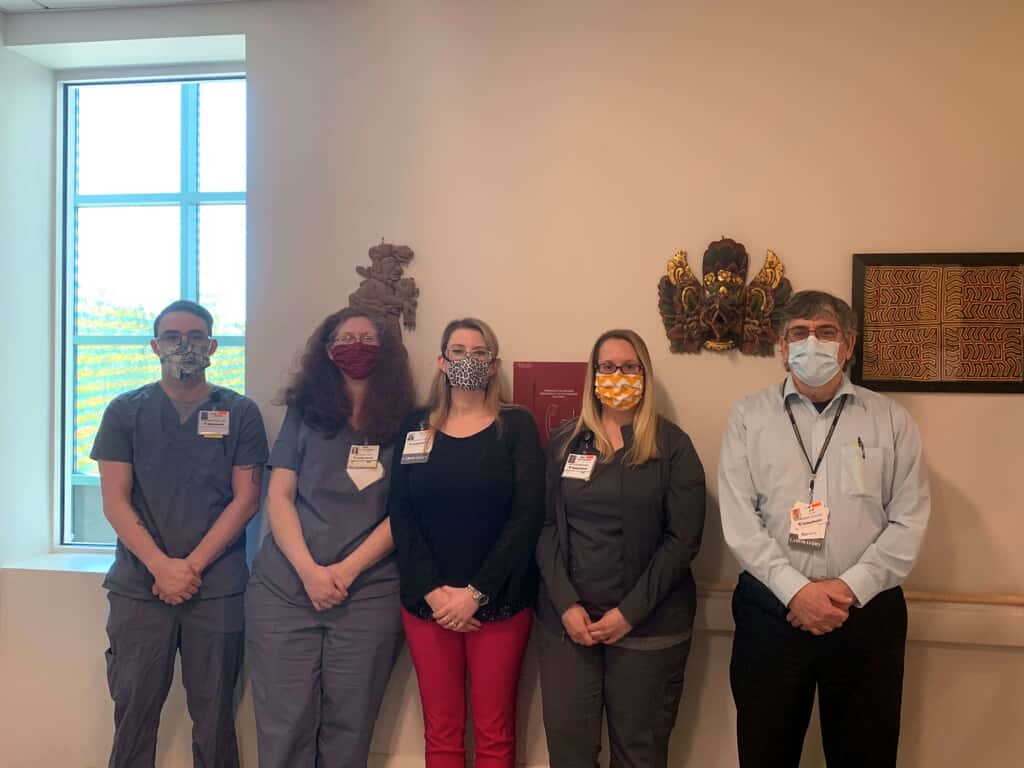 "We all come from our own specialized lab backgrounds. It's been very exciting to work with others from chemistry, hematology, pathology, microbiology, and accessioning. We've learned from each other and tackle one problem at a time," said Dyer. "We've stepped up to meet that standard that's been set for us, and we intend to keep the momentum going."
"I think the team members are so incredible," added Moorhouse. "They created a process out of nothing and have remained flexible and available to ensure 24/7 coverage. They excel with a smile, epitomizing customer service and then some!"
We recognize the COVID-19 Lab Team for their work to ensure our community stays Healthier, together. We are proud of the important work they are doing during this pandemic!
Your provider can order referrals for COVID-19 testing if you meet the Centers for Disease Control and Prevention (CDC) criteria for testing.