The LSVT BIG® Program, and Parkinson's
The Lee Silverman Voice Treatment Program (LSVT BIG®) is a program offered through Valley Health that is administered to individuals with Parkinson's disease to challenge the impaired system and to increase whole-body movement. Techniques are specific to the program and focus on deficits such as slow or smaller movement patterns. LSVT BIG® program for physical therapy is 4 times per week for 4 weeks and the sessions are one hour in length.
Alan Oates recently completed this program with the help of Physical Therapist Shelley Annalora, DPT. Mr. Oates is a resident of Woodstock that completed the program at the Strasburg clinic. He called it the "Big +" program and thinks Shelley is remarkable. By the end of the program, he was doing box jumps and was able to return to all recreational activities that he once enjoyed. Mr. Oates was diagnosed with Parkinson's disease in 2006 and referred to Strasburg by his doctor in Georgetown.
The Big® program aims to improve movement, balance and stepping, as well as help with trunk rotation and larger amplitude movement. The program also focuses on an additional 4 functional component tasks that the patient selects; e.g: tying shoes, buttoning clothes, putting a coat on, handwriting, getting in and out of the car. Shelley and Mr. Oates spent time on dexterity to make tying shoes easier. The BIG® program is a lifelong commitment.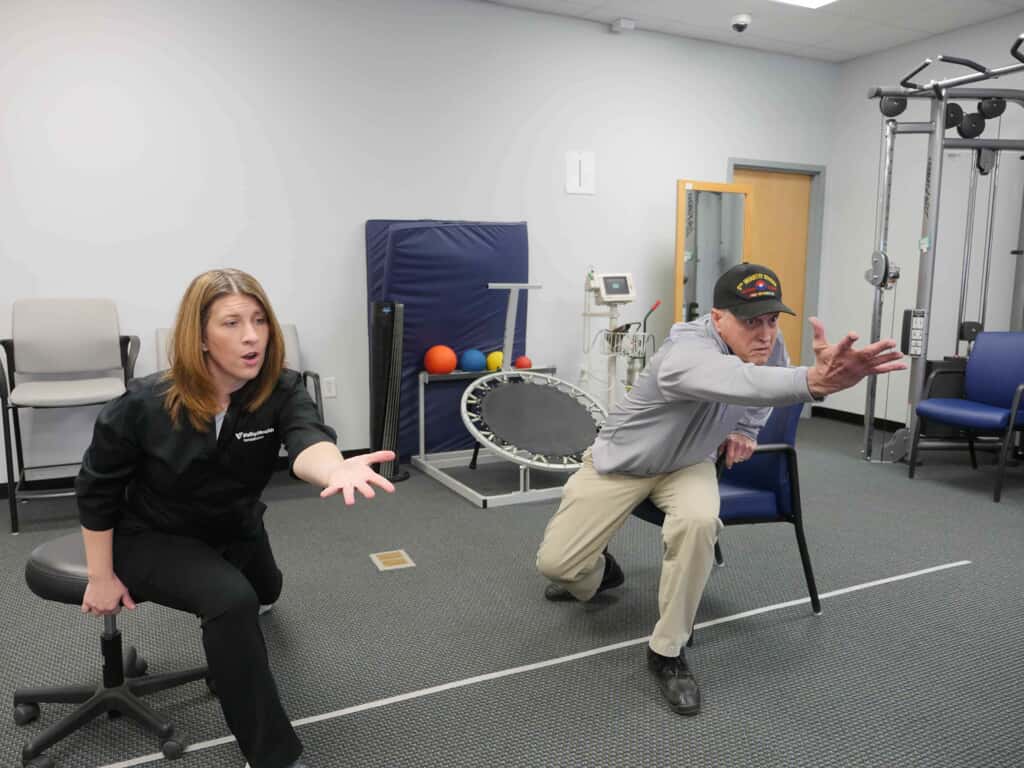 During the program, the patient does the exercises a second time at home and twice on the days they don't come into the clinic. They must continue the exercises after the program is complete. You can come in for a "tune up" as needed. Mr. Oates said he always does things, "in a big way". He thought the program was outstanding and appreciated that it is tailored to each patient's individual needs. From a patient with functional walking to a wheelchair bound patient, you will see a difference with the BIG® program.
Mr. Oates is a retired Army First Sergeant, who was enlisted for 20 years. He was instrumental in getting Veterans Affairs (VA) to recognize that Parkinson's disease is associated with the exposure to Agent Orange used during the Vietnam War. He is a founding member of U.S. Military Veterans with Parkinson's (USMVP) who presented their research to the Institute of Medicine, encouraging them to do their own study. Their findings confirmed USMVP's research and a year later, the VA recognized the association.
This Army First Sergeant told Shelley she would make a good drill sergeant and he thinks the BIG® program is exceptional. He saw significant improvement in his balance and ease in everyday functional tasks. He continues to live in a BIG® way and would recommend this program to anyone who needs it.