Advances in Hernia Care at Valley Health
Valley Health Offers Advanced Surgery for This Surprisingly Common Condition
A bulge near your groin or elsewhere on your abdomen or upper thigh. Pain and a feeling of heaviness low in your torso. For men, a swollen, painful testicle. These are warning signs of a hernia—a surprisingly common health concern that affects 1 in 4 men and 1 in 50 women over their lifetime.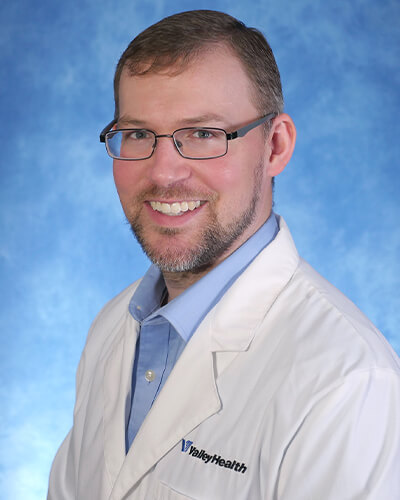 At Valley Health, surgeons use advanced laparoscopic techniques as well as robotic surgery and open surgery to tailor hernia repair to each patient's needs. "Surgery is the only treatment for hernias," explains general surgeon John T. English III, MD, a physician with Valley Health General Surgery | Front Royal, who performs procedures including hernia repairs at Warren Memorial Hospital, in Front Royal, and Page Memorial Hospital in Luray, Virginia. "Repair relieves symptoms such as discomfort and bulging. It also eliminates the risk for a rare but life-threatening complication called incarceration—when a section of the intestine or stomach gets trapped and blood supply is cut off."
A hernia is a hole in your abdominal wall or diaphragm that allows tissue from inside your body to bulge out, Dr. English says. "A hole develops at weakened areas of the abdominal wall, which we think can be attributed to a variety of reasons, including genetics and 'wear and tear,'" he says. "Smoking, health conditions like diabetes and carrying extra pounds may increase your risk."
Most are inguinal hernias, a weak spot near the groin. But a hernia can also occur at your navel; on the upper thigh; and along an incision from a past abdominal surgery such as for appendicitis, gallstones, colon cancer, or a cesarean section. "The abdominal wall is weakened by surgery, so incisions there can increase the odds for a hernia," Dr. English says.
Hernia repair involves gently returning bulging tissue to the interior of your abdomen, then closing the hole. Often, it's a minimally invasive laparoscopic procedure performed through small incisions using a lighted camera and specialized instruments. The surgeon typically uses special mesh to help close the hole and strengthen the area.
For some patients, open surgery or robotic surgery may be a better option. Surgeons at Winchester Medical Center are using robot-assisted surgery to repair hernias. As you discuss the pros and cons of each option with your surgeon, it's also wise to discuss the risks and benefits of mesh repairs, Dr. English suggests.
Meanwhile, talk to your primary care doctor if you think you may have a hernia. He or she can evaluate it and make recommendations about watching it or referring you to a surgeon for treatment. If you have a hernia and experience severe pain; a bulge that turns red, purple or dark; nausea and/or vomiting; fever; or the inability to have a bowel movement or pass gas, seek emergency care right away.