Two Valley Health Hospitals Recognized for Outstanding Long-Term Care Resident Satisfaction
Congratulations to the staff of Lynn Care Center at Warren Memorial Hospital and Hampshire Memorial Hospital's long-term care unit for each receiving the 2017 Excellence in Action award from National Research Corporation (NRC) Health. The award is given is honor recognizes to organizations that achieve the highest overall resident satisfaction scores in the NRC Health database – the largest source of long-term care and senior-living satisfaction metrics in the nation.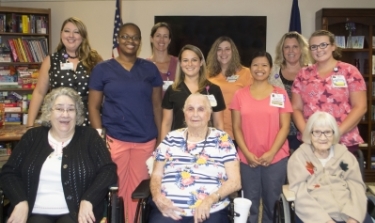 "Lynn Care's resident satisfaction scores were in the 100th percentile," said Warren Memorial Hospital President Floyd Heater. "We are all extremely proud that our Valley Health family includes such a high caliber program, led by Crystal Larson and her outstanding team." Lynn Care Center is a 120-bed nursing facility adjacent to Warren Memorial Hospital in Front Royal, VA.
This is the third year that Hampshire Memorial Hospital's 30-bed long-term care unit in Romney, WV, has earned this national award.
"I am proud that our long term care residents and families think so highly of our program," said Mary Sas, Vice President of Hampshire Memorial Hospital. "We have an amazing team, led by Cheryl Dent, who all work together to make this a warm and nurturing home for our residents."
Award recipients were selected based on 2016 resident satisfaction scores. Both Valley Health facilities consistently received top-box scores of 'Excellent' to such questions as: "What is your recommendation of this facility to others?"; "Would you recommend this as a place to live to your friends and family?"; and "What is your recommendation of this facility as a place to live?"
"The Excellence in Action award remains a true testament to the overall quality being provided in today's long-term care and senior living organizations," Rich Kortum, Director of Strategic Partnerships at NRC Health, said in a press release. "The recipients of this award continue to show the importance of focusing on what matters most to their residents, families, and employees. We are honored to partner with such high-performing organizations, and wish them continued success."