Valley Health Winchester Medical Center Leader Earns Promotion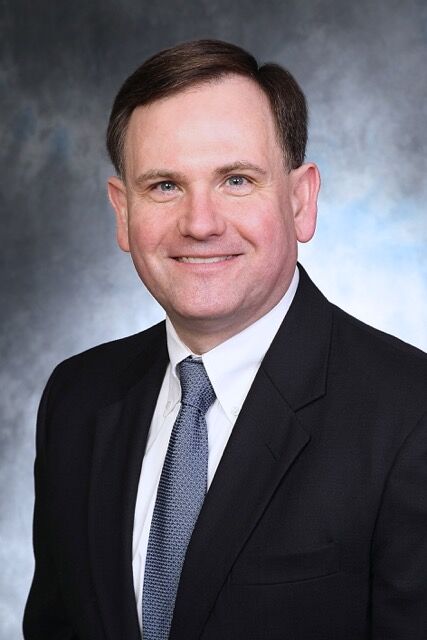 Grady W. (Skip) Philips, III, FACHE, chief operating officer of Winchester Medical Center (WMC) and a system-level senior vice president, has been promoted to president of Valley Health's flagship hospital. Mark H. Merrill, President and CEO of Valley Health System, recommended the promotion and the Board of Trustees of WMC and medical staff leadership endorsed Philips' promotion at their meeting on May 20, 2016.
Philips joined Valley Health in December of 2013 with a 25-year career in healthcare administration at hospitals and health systems in Virginia and Georgia. In his two-and-a-half years at Winchester Medical Center, he has demonstrated his leadership in team building and employee engagement and in physician relations through his work with medical staff members on important initiatives to advance clinical services and quality of care. He has advanced clinical and capital programs for the new Cancer Center, worked to expand Heart and Vascular services, improved patient experience by focusing on responsiveness to patient concerns and shorter wait times in the Emergency Department, and led the WMC team to improved staff engagement.
Philips has also been a valuable member of the Valley Health System executive management team, providing input on a range of initiatives. Under his leadership, WMC has improved its collaboration with Valley Health's five other hospitals to expand access to needed services and support the development of services closer to home.
WMC Board of Trustees Chairman Tom Gilpin is enthusiastic about Philips' new role. "I am very pleased Skip has become president of Winchester Medical Center," Gilpin said. "Since his arrival, he has done an outstanding job as WMC's Chief Operating Officer and a Senior Vice President of Valley Health. I am confident his high level of performance will continue."
"I am personally very excited Skip has received this promotion," said WMC Medical Staff President James Nashed, MD. "Since his arrival we have seen an uptick in engagement of the medical staff with administration. Skip has forged many new physician-led projects in partnership with administration."
"Skip is highly regarded throughout the organization and has earned high marks for building employee, physician and community engagement," said Mark H. Merrill, Valley Health System President and CEO. "I am confident that Winchester Medical Center will continue to grow under his expanded role."