New Home for PMH Outpatient Rehabilitation Services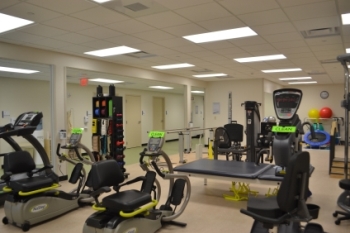 Residents in the Luray area who come to Valley Health Page Memorial Hospital for physical, occupational or speech therapy will find a transformed therapeutic environment. Rehabilitation staff moved into a 7,000-square-foot "rehabilitated" space last week, and yesterday the community celebrated with an Open House. Many toured the new facility that houses a 1,200-square-foot open therapy gym, seven private treatment rooms, dedicated staff offices for documentation, and a conference room with equipment for telemedicine consults.
Dannette Fortney, OTR/L, Director of Outpatient Rehabilitation Services, shares the staff's excitement about the department's consolidation in space designed specifically for treatment. "We're eager to work in the new space and think our patients will appreciate the functional and aesthetic improvements," says Fortney. "Rehabilitation is a collaborative process and the ability to consult easily between PT, OT and speech/language pathology is a big plus."
As part of a $100,000 capital campaign, $70,000 of which has been raised to date, Page Memorial Hospital Auxiliary's gift of $25,000 has been used to purchase equipment for the larger space, which has allowed the program to expand its capabilities. Adults and children experiencing balance disorders will benefit from enhanced vestibular diagnostic and treatment services, and sports medicine therapy got a boost with new compression and ice equipment.
"We are so pleased to have a space that really supports our excellent therapy team and their ability to help residents return to function after an injury or illness," says Travis Clark, president of Page Memorial Hospital.