Tyler
Author: Tyler, RN Medical Innovation Unit
Date Submitted: Mar 26, 2023
Category: Careers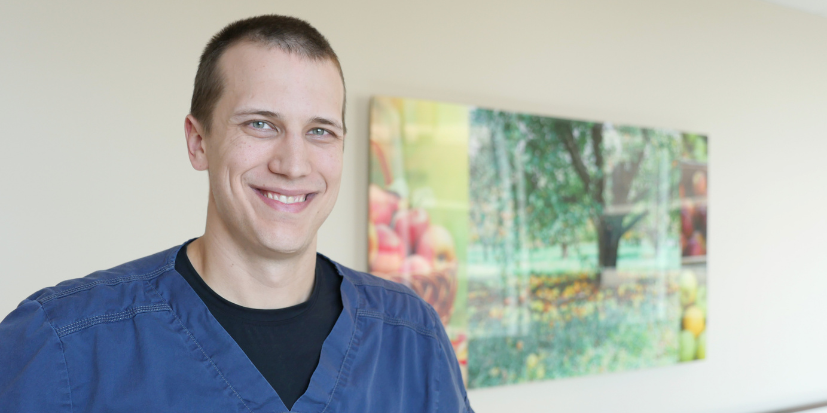 "I think it's important to serve the community where I live, and I love what I do at WMC. My family is here, my wife's family is here, and Winchester is still a small town where there isn't much traffic, and everything we need is close by."
Meet Tyler Quinn, a cancer survivor who pivoted his career path to make a difference in the lives of others through health care.
At the time, Tyler was planning on becoming a youth minister, but his life took an unexpected turn during his first semester at Johnson University in Knoxville, Tennessee. He began experiencing unusual symptoms, including - double vision, dizziness, and excessive head pressure. After six months of searching for answers, Tyler was diagnosed with leukemia.
Tyler underwent extensive treatment and in January 2014, received a bone marrow transplant at Johns Hopkins University. He was deeply inspired by the care he received from the healthcare professionals who attended to him, so moved that he decided to change his career path and become a nurse.
"After treatment, I enrolled in Valley Health Warren Memorial Hospital's 10-week Certified Nursing Assistant (CNA) program. I went to nursing school immediately after at the local community college while working as a CNA, and I'm now a charge nurse," Tyler shares. Today, he works on the Medical Innovation Unit at Winchester Medical Center, where he helps patients with various conditions, including acute strokes, heart attacks, orthopedic issues, and more.
"When appropriate, I share with patients that I can relate to what they are going through. Each patient is unique, has their own story, and needs individualized care. I want them to know that we're here for them and genuinely care about their road to recovery."
Tyler's personal experience with a life-threatening illness made him appreciate the importance of having someone kind and compassionate by your bedside during your worst moments. "I decided to change my path in life to touch the lives of people who need health care because no one likes to be in the hospital. It's never fun for the patients. It's my personal mission to be the type of nurse that helps make being in the hospital more enjoyable."
A native of Illinois, Tyler considers Winchester, Virginia, his home and has no plans to leave the region. "I think it's important to serve the community where I live, and I love what I do at WMC. My family is here, my wife's family is here, and Winchester is still a small town where there isn't much traffic, and everything we need is close by," he says.
Seven years after his battle with leukemia, Tyler's life is full. In addition to serving the community as a nurse, he's the head of his church's men's softball team and a foster parent with his wife. His amazing journey is a testament to the impact of healthcare professionals in the moment and throughout their patients' lives.